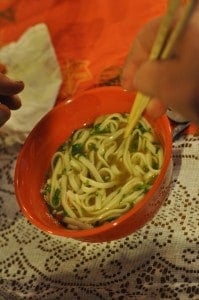 Phở, a Vietnamese soup, was the second course for our International Dinner. We chose Phở because we wanted something from the Asian continent, and the Chef has sampled it in several places, the best being in Pittsburgh, and he wanted to try his hand at making it.
To make the broth for Phở, boil one whole chicken in a large stock pot for 3 -4 hours, by then the chicken will be falling off the bones, at that time, separate the meat from the bones, discarding the bones. Strain the stock, simmer to reduce the stock to concentrate flavors. In the meantime, you can prepare your rice noodles, cooking and cooling. Also, you can prep the additional ingredients for the soup. We used:
green onions, thinly sliced
fresh bean sprouts
sliced sweet red peppper
chopped fresh cilantro
sliced jalepenos or seranos, for heat
thinly sliced, smoked pork
diced chicken meat from the stock
We also had available Hoysin sauce and Siracha sauce.
Ladle the brothe into deep bowls, and let the guests add ingredients of their choice. Warning: with the noodles and all the protein are quite filling, so if you're serving several courses, keep the portion small. It is really a meal in itself, often served on the streets of Asian towns in large bowls.