Quote of the Day:  To me, security means knowing exactly how each piece in my life-puzzle fits – no surprises. Jacqueline Pine Savage, narrator of Northern Comfort, written by Jodi Schwen.  I pulled that quote from the story, Life is a Bear Hunt. The other phrase that caught my eyes as I flipped through stories was, Where will I fit a bear? If you've ever wondered what it's like living in Northern Minnesota in a hunting, fishing, gaming community, Jodi's book will offer some glimpses. It's far from neat and tidy, and wouldn't it be nice if we always knew where the pieces fit, never had a lost one, nor suddenly find yourself with a piece of a different color? Life, and all the messiness of it, does not fit together in a nice, tidy fashion. You have people, circumstances, forces of nature, and a very strong character here in the North country – The Weather. In the voice of Jacqueline Pine Savage, Jodi Schwen lets us in on a few of the times when the puzzle piece was crammed into the picture, for better or worse.
I asked Jodi if she had gathered any more stories while doing her book signings and book talks around the area. Knowing that when we share our stories, people feel comfortable sharing theirs, I imagined she'd gathered a few.  Another writer friend of mine said that people would start to look through his book and a flood of words would come from them, stories of their own mothers, grandmothers, bread baking, memories of all kinds. Jodi has experienced much of the same while sharing her book. In fact, she has written some of them down. In her words:
My favorite remembrance from a book signing was from a woman who bought my book and who currently lives in California.
She is an active grandmother and eagerly shared her stories of growing up on Gull Lake by Grand View Lodge. Her daughter now owns a cabin on the lake and Grandma brought her grandson for an extended stay on the lake so he could experience the same lake life she and her daughter had enjoyed as children. Her mantra: "Once a lake girl, always a lake girl!"
Another memorable speaking experience was when I told the significance of the frogs. My sister had sent me several colorful gold and green frog pins in various styles and sizes. I pinned one onto my buffalo plaid hat as a reminder of our family and the lake we grew up on and loved. When I told a group that the frog is also representative of how we Anderson Girls raised money in the neighborhood, they laughed. We were too far out in the country to have a lemonade stand so we caught and sold frogs to the customers of Slug and Vi's Cast-a-Bait Resort just down the bay. Most were used for bait, but one cabin of squealing girls let a frog loose in the cabin and mayhem ensued!
This is a great "coffee table" book, or in my case, one that you can leave in your car and read a few more stories while waiting to pick up the kids from practice or other activities. Each entry is it's own short story, with the reoccurring characters and voice of J.P. Savage. Some make you chuckle, others are sweet. The first story I read was about riding the bus to school. I had an instant connection as I am also a long-time school bus rider, living several miles out of town on the farm. It seemed like we were also the furthest point out. In the winter, my dad would stand at the big picture window and watch for the lights of the bus as it turned down our road, then yell, "The bus is coming!" We'd scramble into our coats, boots, hats, gloves, and gather up our school bags. I have been a distracted forgetter from the beginning of time, so I often called home once I got to school to say something like, "I forgot my uniform for the volleyball game tonight," or "Could you bring in my clarinet?" Or, I had to just live without the missing item and beg forgiveness from the teachers. It's what makes me a softy mom today when one of my boys, usually the middle one, says, "Hey, could you come into the school today to sing the permission form for the band trip? Yay, it's due today." Which leads to another long story about running around finding the form, and giving my permission. It would be so much easier if we could sign a form at the beginning of school (say, Kindergarten) that says, "I give my permission to allow all my children to attend every field trip, now until they graduate."
So, you see. Stories like the ones you'll find in Northern Comfort, the musings of Jacqueline Pine Savage, are great in themselves, and they might just open up some conversations and storytelling in your own neck of the woods. You can find out more about Jodi Schwen's book through her website, or purchase a copy at local establishments and online.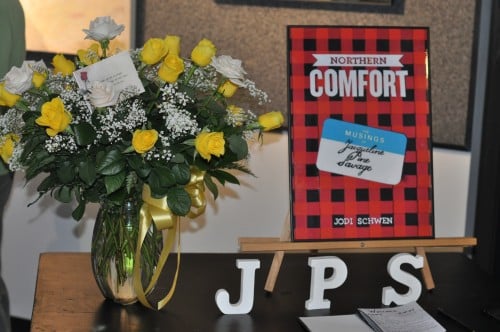 Go. Create. Inspire!
Journaling Prompt:  Do you have any stories from book signings or interactions with other storytellers? How did you get to school when you were a youngster?