Quote of the Day:  They're creepy and they're kookie, mysterious, and spooky. They're all together ookie. The Addams Family *snap *snap, bada da dum *snap *snap. (Are you singing the theme song in your head, now? You're welcome.)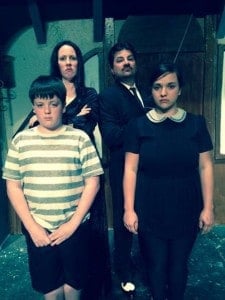 Did you know that the classic TV sitcom has been turned into a musical? Well, it has, and it's terrific. The songs are filled with kookie lyrics. The kids are growing up. Fester is in love…with the moon. And, Wednesday is in love. Horrors! Imagine that moment when you and your sweetheart were getting serious and thought it would be a "good idea" to get the families together for a dinner. You know how you just want them to act like "normal" people…"For just two hours, could you act like a normal family?" plead the young lovers. Below is a trailer from Youtube. The show I saw last night was a community theatre production at the Alexandria Area Arts Association (AAAA) in Alexandria, MN.
The cast and crew of the AAAA theatre did a spectacular job with the quirky and well-loved show. You have the meshing of the mainstream with the macabre. You have the characters and their quirks, on both sides of the cemetery. And, you have the delight of watching them co-mingle, or not. I thought that director Ben Klipfel had a fantastic cast. Really. The actors fit into those classic roles so well. David Christman who played Gomez was particularly well cast. He never slipped out of character or lost that exotic "Spanish" accent. My sister and I have seen some of these actors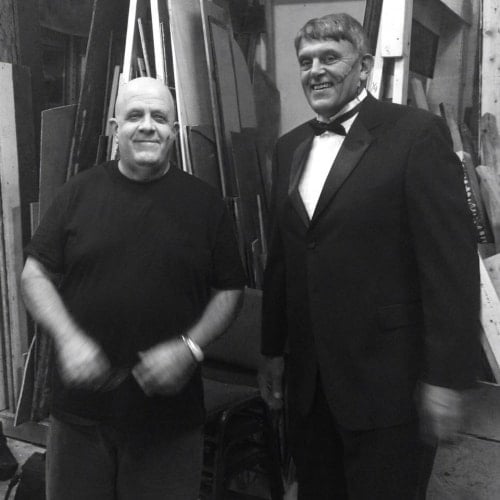 on stage before, and Kevin Lee, who plays Uncle Fester was so good there were times we forgot it was Kevin, the same guy who played Tevye in Fiddler on the Roof, several years ago when we were both still living in the area. The fun thing about community theatre is that the folks who have "normal" jobs during the day get to come out and play, in a quirky way this time, in shows like The Addams Family. It amazes me how much talent is hidden behind business desks, housework, and the daily grind. Thank goodness, they have a place to be a little mysterious and kookie once in a while.
If you're in the Alexandra, MN area, or close enough for a lovely fall drive past rotting fields and cemeteries, venture out and take in a kookie and spookie show! I feel I have a better understanding of the Addams' after watching this musical. Really! Here they are living life their own way, without apology. 
You can find showtimes and ticket information at the AAAA website or AAAA facebook page. You will have a spooktacular experience!
Go. Create. Inspire!
Journaling Prompt:  Have you seen the Addams Family musical or heard any of the songs? What old TV show would you like to see come to life on stage?
Here's a little more info from the AAAA blog:
"Like the television series, there is a bit of innuendo," Klipfel said, "but, there is something in it for everybody, and it's not scary but rather super fun, and very fast moving."
The Addams Family features a regional cast, including David Christma (Gomez), Kara Gerdes (Morticia), Mackenzie Webb (Wednesday), Brody Uhlenkamp (Pugsley), Kevin Lee (Uncle Fester), Lindsey Roers (Grandmama), Chuck Grussing (Lurch), Alex Shockley (Lucas Beineke), Bill Dietzler (Mal Beineke), and Becky Byrne (Alice Beineke).  The Addams Family Ancestors are played by Ahndree Brown, Alex Johnson, Carolyn Giannone, Trinessa Spanswick, Holly Wallerich, Cole Mercier, Adam Frankel and Pete Woit.
The production features an original story by Marshall Brickman and Rick Elice, with music and lyrics by Andrew Lippa.  The Addams Family is based on characters created by Charles Addams.  The production is directed by Benjamin Klipfel with vocal direction by Rachel Capistrant.  Lindsey Roers provided choreography. Quincy Roers designed the set and lighting, and Hilary Ninman designed the props.  Costume, hair and makeup design is by Deb Long with assistance from Jamie Sandberg.  Dedra Zweig is the music technician.  Ailee Velazquez is the stage manager, and Rexford Sweetwater is the assistant stage manager.  Eric DeLong and Scott Giannone are the running crew.
The Addams Family musical runs October 24, 25, 31, and November 1 at 7:30pm, with Sunday matinees at 2:00pm on October 26 and November 2.  Tickets are available now at the box office and can be purchased over the phone with a credit card (320-762-8300) or in person at 618 Broadway Street in Downtown Alexandria.  Tickets are $18 for adults, $16 for students and seniors.  There is a group rate of $13 for parties of 12 or more.
The Addams Family is sponsored by Integrity Title of Alexandria.