Quote of the Day:  He was conscious of a thousand odours floating in the air, each one connected with a thousand thoughts, and hopes, and joys, and cares, long, long, forgotten. from Charles Dickens' A Christmas Carol
The Guthrie Theater of Minneapolis, MN is celebrating its 40th annual production of A Christmas Carol. Once again, J.C. Cutler will be playing the starring role (and, he's spectacular). The Guthrie cast and crew pull out all the stops for this production. I've brought my boys with me for several years, now, and it has become one of our holiday traditions. We are still amazed at the theatrics of this show with sets moving in and out, from the trapdoor below, and dangling down from above. The costuming, sets, lighting, music, and dancing create an atmosphere that sparks the spirit of Christmas in us, even as we're watching it in November, and carries throughout the year. We look forward to being pulled in again to this ghost story that inspires hope.
The Guthrie has generously sent me photos to share of the production which offer a glimpse at the wonders of this stage production. All photos are by Michael Brosilow.
For more details of the performances and a full cast list, visit the Guthrie's web page for A Christmas Carol. They have a mix of returning actors and some new ones. I see that Angela Timberman is playing Merriweather again. The boys and I love her in this role. She offers up some great lines, and facial expressions, that we chuckle over all the way home.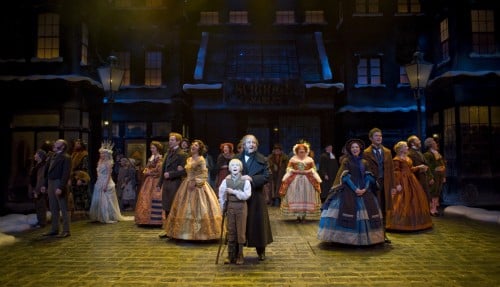 I hope you get a chance to take in some holiday shows this season. A trip to the Guthrie is a great way to spend time together. You could shop, take in the sites of the city, and have a nice meal together. They have a couple good restaurants right at the Guthrie and in the surrounding area. And, if you have a bit of a drive home, like we do, enjoy the holiday lights, the starry skies, and a delightful discussion of the play.
Go. Create. Inspire!
Journaling Prompt:  What are some of your holiday traditions? Do you have an activity that has become a tradition?