Quote of the Day:  Tell me, what is it you plan to do with your one wild and precious life? Mary Oliver, Pulitzer-prize winning poet who celebrates her 79th birthday today. Hey, we're star sisters!
This past weekend, I had one of my best birthday parties ever! I had planned to stay home, have the Biker Chef grill us some kabobs, and hang with the kids. I invited my good friend Krista over with her girls (her boys were away for the weekend) to do some food art. Food art is not only fun, but also it was research for an article I'm writing for the Lake Country Journal on cooking healthy with kids. Well, then, my sister Nancy called and said that she and her husband, my brother, and my mom were all coming. In addition, my sister Joy, the dessert specialist, was coming with the chocolate cake. Here are a few pictures from the grand event!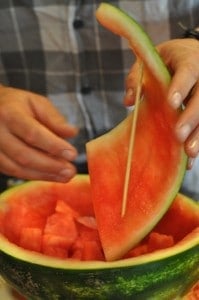 K.C. picked up the fruit and veggies that I had set out and said to the girls, "What does it look like?" He saw a sailboat in a watermelon!
I had honeydew, cantaloupe, strawberries, three kinds of pears, peaches, kiwi, tomatoes, cucumbers, raisins, carrots, celery, cauliflower, broccoli, and Krista brought an eggplant. We used skewers and toothpicks to hold things together. You also need some vision and a good knife!
Mom made sheep in a meadow. I tried to do it, but they looked better in the picture online than what I could do. Mom's were cute!
Just about everyone got involved in some way. My boys chose to eat the extra, or dismantled, fruits and veggies. I made a veggie dip to go with them. We could have been used it in the creations, but we all agreed it would have been messy. I tried laying out the cucumber, celery, kiwi, tomatoes, and a little broccoli to make a train. It looked okay, but I took it apart right away and put the veggies on the tray for eating.
The girls made a couple funny things, and I think they had fun. Nancy made a cute, little guy who looks like a cross between an owl and a gremlin.
We put the skewers together with beef, chicken, peppers, onions, tomatoes, and the Chef grilled it all up. Yum. Joy's delicious chocolate cake with almond flavoring topped it all off, and I felt the love of family, friends, good food, and a beautiful day!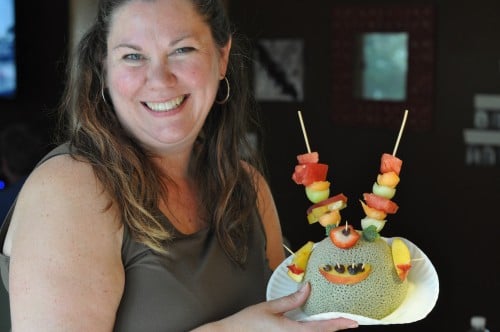 As they say in Good Hope Township (from which I hail),
A Good Time was had by All!
Thanks, everyone, for making my birthday so great!