Quote of the Day:  Go ahead and read the next book, Lot's Return to Sodom, but wait until after you get home from the Sturgis Motorcycle Rally. Sandra Brannan, on the 2nd book in her Liv Bergen murder/mystery detective novel series.
I met Sandra Brannan last year at a library event in the Brainerd lakes area called, Wine and Words. She was one of the guest authors and spoke about her novels. I bought what turned out to be the third book in the series, and as I was in line to have her sign my book, she started talking about book #2 Lot's Return to Sodom and described how it takes place during the Sturgis Motorcycle Rally. I had recently returned from attending the rally (my second), and I wanted the book as a gift for The Biker Chef. Well, I couldn't start a series with book #3, or even #2, so "Santa" brought me book #1 for Christmas, In the Belly of Jonah. I started reading it  just before we headed out on our trip to the Sturgis Motorcycle Rally 2014, (my third, the Chef's 20th, or so) and I knew it was also set in the Black Hills of SD, where the author lives, and I figured it would be fun to be reading it while there. If we had a little down time (which never happens) I could start the second one set during the rally. We had some down time because we stayed in the Hills this year in historic Deadwood, so I read a little in the mornings before we took off on a ride, but not enough to finish the book.
Mr. Happy also likes books by Sandra Brannan, but he got a little nervous reading a murder/mystery set during the rally while we were at the rally! Anyway, I finished reading "Jonah" once we got home, and I'll have to say it is terrific. I love a good mystery, not too graphic, with an interesting main character, like Kinsey Milhone in Sue Grafton's alphabet series. I grew up reading Nancy Drew, Hardy Boys, and Agatha Christie novels. While Sandra does include some grim details to describe the murders, it doesn't get out of hand. What draws me into the story are the characters. I really cared about them. I wanted to know more. I got excited and nervous, and even a little emotional. 
I am facebook friends with Sandra Brannan, and like her author page, so when I saw that she was running a photo contest of people reading her book, I set up this shot while we were heading back home from the hills. And, I won the Amazon gift card! Thanks, Sandra. I plan to buy the next two books in the Liv Bergen detective series. We had fun with this shot, and I really do like your books. Well done. I'm so glad that Sandra was invited to the Wine and Words event last year, otherwise, I wouldn't have known about her books. And, honestly, if I'd seen this cover on the shelves at the bookstore, I might have passed it up.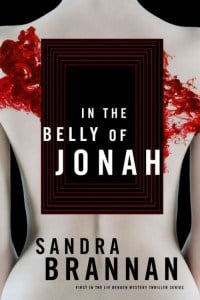 It looks like the story would be a little dark for my tastes, but so far, Sandra brings it right to the edge, then keeps me hanging on by the goodness and light of Liv Bergen and her spirit.
I wonder who we'll meet at this year's Wine and Words event, scheduled for August 22, 2014. I better bring my checkbook because you know I can't resist the books after hearing the authors speak so enthusiastically about them.
One, slightly, freaky side note: In the book In the Belly of Jonah, one of the FBI agents' names is Lisa Henry. I was a few chapters into the novel when I got a linked-in request to connect with a Lisa Henry! I did a double take, and waited a couple days before replying, after I realized that I am acquainted with a real-life Lisa Henry, who might want to think twice about reading this novel.
Visit Sandra Brannan's website to learn more about this SD author and her books. She also posts great photos of the wildlife around her home in the Hills of SD on her facebook page. Sandra, I have enjoyed getting to know you and reading your books. I hope our paths cross again, soon! And, thanks for the Amazon gift card!
Go. Create. Inspire!
Journaling Prompt:  Write about a time when you met an author or artist.