Quote of the Day: It's short, but it's good. Assessment by one of our young actors about our Puppet Play for, and by, elementary students, titled Camping Trouble.
We started out five week's ago, a group of strangers, a blank page, and an empty room. We played theatre games like Zip, Zap, Zop to get our creative energy flowing and learn each other's names. We played "Gears" where all the actors become part of a huge machine, which is what happens when you create a drama together.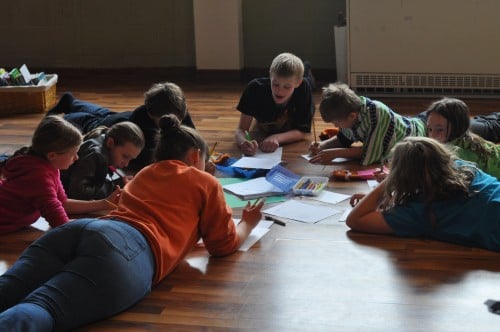 We started with a theme: Camping!
An appealing thought coming off a long, cold winter
and living in the Brainerd lakes area.
Pencils scratching, ideas flowing, characters developing!
Creating the puppets!
After a few sessions where we worked on characters, story line, and background posters, our stories started taking shape. The theatre classes are Puppet Plays for Elementary kids, grades 1-4, and Scriptfrenzy for Middle School Kids. What impresses me about these kids is they could jump into the program with individual ideas and work together to create a story using all the characters. They really listened to each other and included everyone. This past week, we brought in boxes. I have been dreaming about these boxes for years because they can be used as props, set, background, etc. over and over. We read a book called Not a Box by Antoinette Portis, a Theodore Seuss Geisel Honor Book which illustrates all the wonderful things that a plain, old cardboard box can become. I had my friends make boxes out of plywood, so they'd be sturdier and last longer. You know how it is with cardboard boxes, someone sits on it, and it's all over! Joy and I painted them in various colors, including chalk paint (a great invention), and here's what the kids came up with for our camping plays:
Each side can have it's own picture or sign. We have a cave, store, lodge, bedroom, outdoor scenes, a waterfall, campfire, various messages and pictures. Watching the kids jump right in and create made hauling those heavy boxes worth it. One other major difference between the cardboard box and plywood boxes is their weight!
Next week is already our last class for this session. We'll practice for the first part of the class, then perform for our families. We had 11 kids in each class, which means 22 kids were out there waiting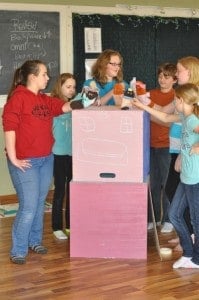 for some theatre/creative offerings in our area. That is our motivation for doing the classes. This summer, the Crossing Arts Alliance is offering three weeks of creative classes in June: drama, writing, and art. I'm co-teaching the writing class with teacher and picture book author Guy Kelm. I'll be offering theatre classes again in July. An all day Musical Theatre Workshop, for ages 13-17, is also being offered on August 5. You can go to the Community Ed. Guide to register for the Crossing Arts Classes and the Musical Theatre Workshop. You can find out more details here for the classes that I'll be offering this summer and during the school year.
I hope to continue with theatre classes for kids, maybe expand into adult acting and play-writing workshops, and build a community of creativity and cooperation. Thanks for your support: participants, parents, friends, and anyone who takes the time to read my blogs and support the arts in your community!
You can see more photos of our theatre classes on my Play off the Page facebook page.
Go. Create. Inspire!
Journaling Prompt: You just got a box for your birthday, what are you going to turn it into?