Quote of the Day:  Bring it On: the Musical takes us inside one of the most competitive environments found anywhere in the U.S. today. Patricia A. Mitchell, President/CEO of The Ordway Performing Arts Center in St. Paul, MN.
This picture captures the energy of the musical. If you're interested in watching video clips of this performance, go to the website for Bring It On: The Musical. They also have a great facebook page where they highlight some of the performers, and many of them have cheer and/or gymnastics background. This Sight and Sound production is on a world tour with a stop here in St. Paul, MN at The Ordway. Wow! What an explosive performance. It is high energy, big numbers, mounts, lifts, and athleticism all choreographed to music. I was so pumped up I didn't even get sleepy on the long drive home to Brainerd after the show.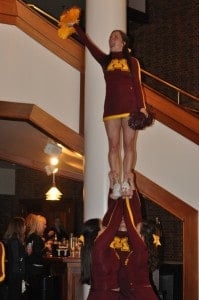 So, is it all cheer moves and pyramids? Yes and no. There is a story. High School senior Campbell is just about to realize her life-long dream of becoming the cheer captain for one of the top teams in the country. She's rising to stardom. She has it all…until, it's ripped out from under her. She has to switch schools to one that doesn't even have a cheer team, and try to figure out where she belongs and how to fit in. It's fairly predictable. Still, it's a thrill to watch it unfold…and leap…and literally fly through the air. I'm far from my high school days, and I never was a cheerleader, but I loved watching this show.
We all have dreams. Sometimes, they are realized. Most of the time, they take a new form, and we have to go through much of our own transformation and growth before we truly understand what it means to be successful.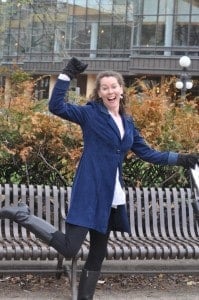 Bring It On: the Musical is playing at The Ordway in St. Paul, MN, May 13-18. Many girls came in large groups, dressed in cheerleading outfits. And, a few cheerleaders from the Minnesota Gophers were in the lobby, entertaining us and posing for photos. Joy and I felt like leading a cheer. (She was a cheerleader in high school.) But, the doors opened too soon, and we found our seats instead. Give me a G! Give me an O! Give me a P! Give me an H! Give me an E! Give me a R! Give me an S! What have you got? Well, if we'd tried any of the jumps, we'd have a pulled muscle!
Cheer on!
Go. Create. Inspire!
Journaling Prompt:  What's the name of your school team? Did you cheer? What group did you hang with in high school? (I felt like I should have been carrying my clarinet.) Oh, and also playing that night were the Minnesota Wild! Everyone seemed to be dressing their part.