Last weekend, the Biker Chef and I headed to the metro. I reviewed two great shows: Crimes of the Heart at The Guthrie (I felt the sisterhood), and Lilies of the Field at Open Window Theatre (Can I get an Amen!) Lilies closes its great run this weekend. If you can get a ticket, Go! Crimes is playing through June 15. In between shows, we dined at Sanctuary restaurant on Washington street. It was a culinary adventure! To continue with that theme, and since it was a gorgeous day on Sunday, we attended the Grillfest at the Depot in Minneapolis, an outdoor cooking delight!
We were wise to get there early and found a parking spot in the lot for the Depot. We took a walk on the stone arch bridge to work up an appetite, then got in line about half an hour early to get in the
doors. They card everyone and you must be 21 or older to even attend the event. One man ahead of us didn't have his passport on him, so he had to leave his party and hang out by himself for the afternoon.
We chatted with a couple youngsters while waiting to enter the event. They had volunteered the day before and talked of the large lines, so they had a strategy. Get your cup/beverage holder and your bag and head to the outside vendors first. They're the ones with the sustenance. Get in line quickly for the build your own burger, and start sampling. The biggest (and best according the The Biker Chef from New Ulm) pours are from the Schell's Brewing company! 
Our first tasty bite came from Pimento, Jamaican Kitchen. This guy was
enthusiastic about his food, and we found it to be flavorful and fantastic. I like their two credos: American Credo: Healthy, flavorful, fast. Jamaican Credo: Anything the body consumes should enhance it, not harm it.
Other favorites were citrus glazed wings, sausage served with refrigerator pickles & onion from Butcher & The  Boar. We grabbed their card and plan to write a review of their restaurant soon. They told me to get the long ribs. And, The Biker Chef said hello to Robert Wohlfeil from Oceanaire as they served us a yummy salmon spread on flatbread. He has also invited us to come dine at his place and write a review. I'm there! We followed the kids and built our own burgers. By then, I was getting full! And, of course, we sampled some of the beverages. Blue Moon has always been a favorite of mine. The Chef liked an apple wheat, and I tried Farm Girl from Lift Bridge Brewery. It's really good. Of course, I liked the name because I'm a Farm Girl, and it's sweeter and smooth, which is what I like. I think, perhaps, a tour of their brewery in Stillwater would be fun.
And, yes, Schell's had the best samplings. I like their summer grapefruit beer, and the Chef had Goosetown. They also had something called The Current. I should have tried it. It's actually paired with the music from The Current 89.3 to bring enhancement to your summertime tunes! We visited Schell's Brewery this past winter and enjoyed some fine samples and learned a bit of history of the brewery and New Ulm.
All in all it was a fun afternoon of grazing the grill, sipping the beverages, and rubbing elbows with other outdoor cooking enthusiasts. Um hmm, we're gearing up for grilling season, too. What would Memorial weekend be without it? Plus, all the boys are home, now, and they like their meat!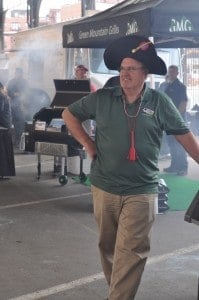 People watching is also fun at an event like this. Here are a few favorite shots. You can see more on my facebook page for Play off the Page.