Pittsburgh Blue is a restaurant in the Minneapolis/St. Paul area of Minnesota. The Biker Chef says it's one of the best steakhouses he's ever been to. It's definitely upscale with prices and food quality. The menu is ala carte based, meaning you order your meat and your sides separately, and any extra toppings like mushroom caps or Bearnaise sauce. It has quite the extensive selection of wine, local and national beers, and full bar. I had a tasty raspberry mojito, which was similar to a Cosmopolitan in flavor and alcohol content. Pittsburgh Blue has exceptional customer service and attention. While dining, we were visited by the floor manager, the general manager, and our waitress, Missy, was outstanding and personable. In fact, I gave her my card, told her about my blog and this post. We found out that she was born in Romania, so I told her about a favorite blogger that I've been following,  Sylvia Villalobos at  Sylvia Writes, who is writing about Romania during the challenge.
We recently visited the Maple Grove location. During our first visit there together last year, we started talking about writing a food blog. At the Pittsburgh Blue, they think nothing of mixing and matching and creating your own multi-course meal which sparked the name of this blog Dine off the Page. We share apps, split salads, and pass the sides back and forth. It's a great way to explore many of the menu offerings.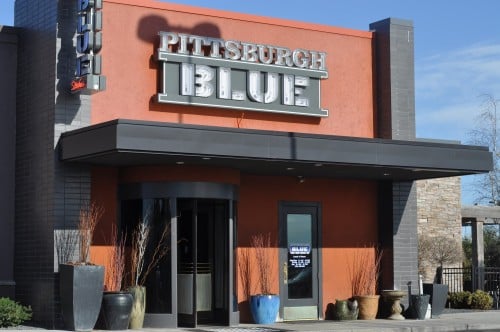 Pittsburgh Blue in Maple Grove, MN
Parmesan encrusted shrimp with orange citrus aioli.
The iceberg wedge salad with bacon and blue cheese dressing.
Filet American, smothered in Tillamook cheddar and applewood smoked bacon.
Ribeye with mushroom caps.
Mary and Missy, Waitress extraordinaire,
We'll visit again soon for another culinary adventure at the Pittsburgh Blue!