The Biker Chef and his friends have been producing their own Maple syrup for 10 years, and he says that 2013 was their best year with a yield of 43 gallons of syrup. With a 40 to 1 ratio of sap to syrup, that means a lot of bucket runs! This year, not so much. We had a terribly cold winter and Spring was a long, long, time in coming. So, they didn't even tap the trees until April 6. The sap poured out the first day. We got a little more the next day. Then, we had the long-awaited warm-up, temps in the 70's (Fahrenheit), so the sap stopped flowing. Now, we've dipped back into the 20's and we hope that the sap will run again, in a process called hydro static action. Ideal conditions, which we had last year, is cold nights (below freezing) and warm days. Last year, we were able to keep sapping for almost six weeks! We'd like to get a few more gallons of sap, even if we have to wade in the water for it. We collect along the Crow Wing River which has swelled past its banks from the spring thaw. It's all up to Mother Nature.
We place smaller buckets under the taps on the Maple trees along the Crow Wing River. Last year, we trudged through snow. This year, we're wading through water.
We use five gallon buckets to transport the sap to the farm where it's placed in a large outdoor cooker which adds a slightly smokey flavor. Once it's boiled down, we place the remaining sap on a cook stove to finish it. It needs to be at just the right temperature, then we pour it through cheese cloth into a clean bucket, then into the jars. The first sap of the year is lighter and sweeter, which is used to on your favorite breakfast food like pancakes and French toast. You can even add it to your oatmeal for a natural sweetener, or ice cream. Yum! The darker product from the later collections is better used in baking and recipes. I add it to my sour dough. The Biker Chef made Maple butter last year. Now, there's a tasty treat on toast, or other uses. 
Despite the large amount of work involved in Maple syruping, it's worth it. Once you've tried that golden sweetness, you'll never go back to store bought syrup. In fact, I'm a little turned off by it, now, considering the artificial sweeteners used. And, real Maple syrup from a store or gift shop is very expensive. You start with drilling holes in the Maples just as it's warming up in the spring. You trudge out there as often as needed to collect the sap, haul the sap to the sugar farm, cook it down, jar it, store it and distribute it. Then, the real work begins, the clean up. You need to scrub out every bucket and container, hose down the garage floor and wash out the truck bed that you used to haul it. Still, everyone who lends a hand gets to take home syrup. And, it make Mr. Happy, very happy!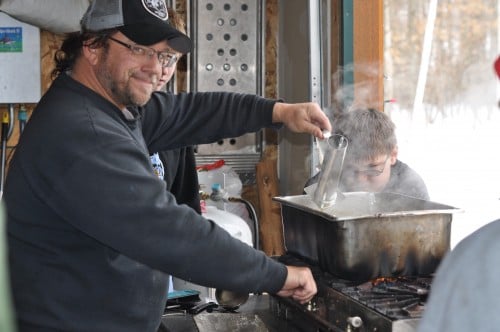 I wrote about Maple Syruping last year, too. Click here to read that post.
People also collect Birch sap, common in Alaska because they don't have Maples there. Last year, we ran a little Birch sap, too. One hundred gallons of Birch sap boils down to one gallon of syrup. Maple syrup has sucrose, and Birch syrup has fructose which has a lower Glycemic index. Diabetics prefer the Birch Syrup for this reason. The flavor is more like molasses. Come back tomorrow for a guest post by Quinn Nystrom, advocate for Diabetes education and author of the book If I Kiss You, Will I Get Diabetes?