Jeff & Melissa Garlie purchased the former Shady Inn, now known as The Landing at Lake Alexander, in November 1999. For everything from burgers to Chef Jeff specials, such as fresh seafood, pasta, steaks to wild game in the fall, The Landing is your place for quality, casual dining. (From the official website for The Landing Restaurant, visit that site to see the full menu.)
The Biker Chef heard about the new owners of this restaurant when he was at a chef's club meeting, shortly after they opened. After his first meal there, he dubbed it his favorite restaurant in the Brainerd lakes area. Chef Jeff and he have similar training backgrounds. Chef Jeff's sauces are similar to the Biker Chef's. He makes everything from scratch with fresh ingredients. It's one of the few places you can get onion rings hand-dipped in beer batter and fried to crispy perfection. They have the best mixed greens salad with dressing made in house, and the Bearnaise sauce is delicious with steak or fries, or both!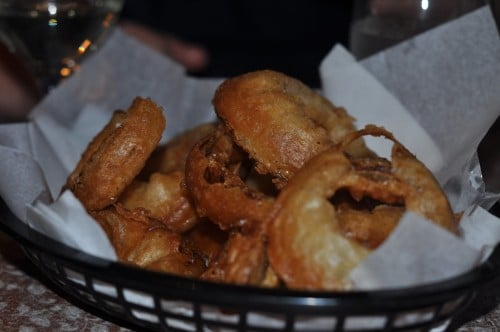 The Biker Chef brought me here on our first official dinner date. Our first date, in my opinion, was a motorcycle ride. He picked me up around 10:30 in the morning, and we drove over to Krista's house where she snapped a few photos. One of those is the slider photo for Ride off the Page. We stopped for coffee, rode a little further, had lunch, and came back home in time for piano lessons after school. I showed the boys the pictures and told them I had a date with this guy. My son Zach, 13 at the time,  looked at the picture and said, "So, this stranger picked you up on his motorcycle and took you out for lunch?"
Back to The Landing. On our first date, I had the walleye which was delicate and delicious. The Biker Chef had a the top sirloin with hand cut fries and the Bearnaise sauce. I was impressed…with the food and the date. We shared a bottle of wine and some great conversation.
The next time we ate there was on our way home from our first cross-country motorcycle ride together out to Yellowstone National Park, over the Bighorn Mountains, and the Sturgis Motorcycle Rally. Turns out, having a homecoming meal at The Landing after the long ride is tradition with the Biker Chef. It's where we debriefed about the trip and lingered long over our dessert, not wanting it to end.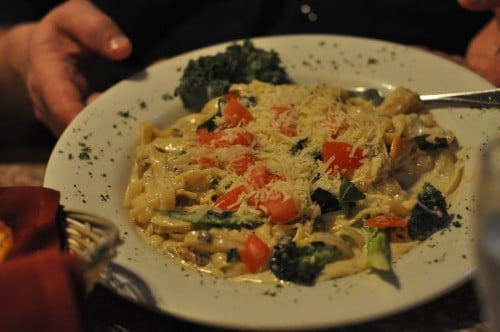 We felt we needed to have a fresh experience, and meal, from The Landing for the A-Z Blogging Challenge, so Biker Chef and I stopped there on our way home from the bike (motorcycle) show a couple weeks ago. The Chef had the chicken alfredo, which was so delicious, I couldn't resist helping myself to a few bites. Plus, it went nicely with my broiled shrimp, baby reds, and veggies!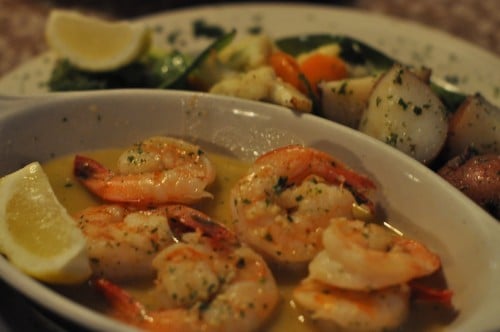 Oh, yes, it's all as delicious as it looks. The Chef says he's never been disappointed with a meal he's had there. The prices are reasonable for this high quality of food, and it's worth the extra effort to get there, a few miles south of Pillager (small town west of Brainerd), and on Lake Alexander. The drive is lovely, winding through the trees and farms of lakes country. Many people make it a destination when they're riding motorcycle or snowmobile. Also, it has a large parking lot and lake access, hence the name: