Ice Cream Pie is a tradition at many Aalgaard gatherings, and always at Christmas. It's cool, creamy goodness with crunchy, chocolatey crust give a satisfying ending to heavy Scandinavian influenced meals like Potato Dumplings, meatballs and mashed potatoes, or everyone's favorite gelatin-like-fish Lutefisk (also good for cleansing the palate).
The Recipe:
Melt together 1 cup semi-sweet chocolate chips and 1/2 stick of butter. Reserve about 2-3 Tablespoons for top drizzle over ice cream. Combine chocolate mixture with 2 cups Crispy Rice. Press it into a pie pan and put it into the freezer for a little while. Let the ice cream soften a little on the counter, about 20 minutes, then fill the cold crust with ice cream. Drizzle the remaining chocolate mixture over the top. Viola, you have a cool and easy dessert.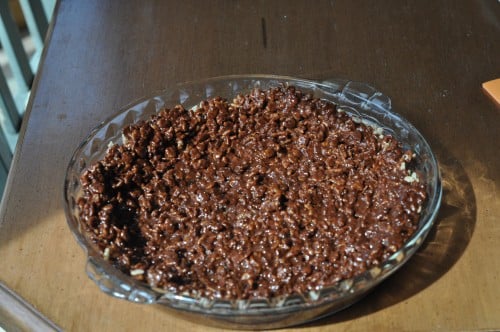 Easiest pie crust ever!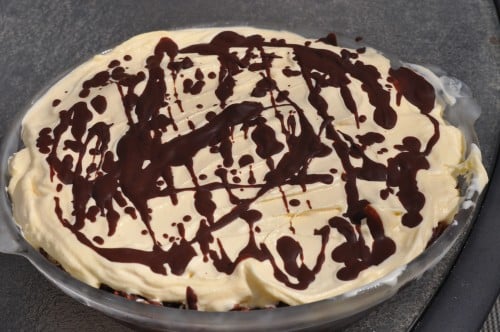 It's our first "real" spring day here in Minnesota, so we went outside for the photo shoot.
I also spent a little time reading on my deck today, ah that felt good.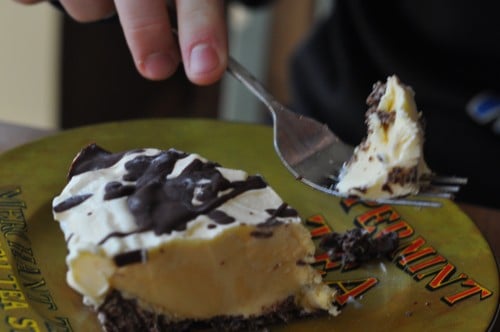 I had to shoot fast as this bite was heading quickly to Zach's mouth!
The Biker Chef nearly lost his chance to have a slice because I couldn't find the ice cream. You might have heard of the book, Who Moved My Cheese! Well, I was having a case of Where did that guy hide my ice cream? The freezer is currently packed to capacity. Several ice cream pails have been used to store food, other than ice cream, and as the Chef was trying to  make room for more meat, he hid the real ice cream at the back of a shelf. I was muttering things like, If he were here, I'd be warming my freezing cold fingers on his hot back!
One warning while eating ice cream pie: It is cold and slippery with a buttery crust (extra buttery today because I accidentally used the whole stick of butter. Zach said he couldn't taste it, and the Chef would say, "There's no such thing as too much butter.") Anyway, as you stab your fork through the creamy goodness, you bump into the frozen crispy crust, and more than once an unsuspecting guest has sent a piece or two sailing onto the table. It makes for a lively end to the meal!
What are some of your favorite family desserts?