Quote of the Day:  String instruments are the closest to human vocal chords. James Larson, Brainerd High School Orchestra conductor
What a treat to be sitting in the Tornstrom Auditorium on Sunday afternoon listening to the outstanding music of the Heartland Symphony Orchestra. The strings really are close to the human psyche and vocal chords, and the rhythms and tones of the percussion and wind instruments are like our heartbeat and breath. I attended the concert with my 16-year-old son Zach. (Apparently, he got extra credit for attending.) He tapped his feet and wiggled his right hand fingers as if he, too, were up there playing with the orchestra. Many of the public school's music teachers are part of the orchestra, as well as students and community members from Pine River to Woodbury, and Osakis to Hinckley, all for the chance to play with other trained musicians under the superb direction of Sergey Bogza, a Russian-American composer, conductor, and all around creative and charismatic guy. His sense of humor comes out in the performance and interaction with the audience. The musicians seem to pull at their instrument strings with the same passion they're evoking from their audience as Sergey leans in, smiles, reacts, even stands back and listens.
I need to get a fancier lens if I'm going to try to take photos of performances like this. It's always darker than you think, and it's hard to get facial expressions from the middle-side row. Still, I want to share what I was able to capture. Maybe you'll find a familiar face in the orchestra. Maybe you'll imagine yourself as a member some day, here or wherever you live. I kept thinking, what a great way to spend your time and continue with your musical journey.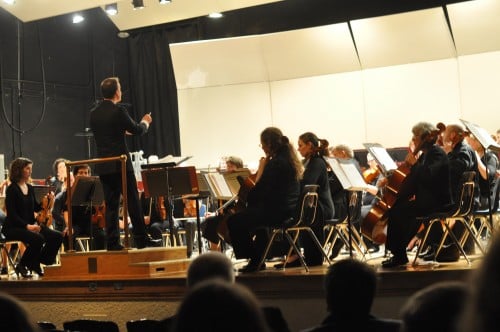 At the end of the concert, Sergey shared news of the upcoming season for the Heartland Symphony Orchestra. I didn't take note of all the pieces and composers they'll be featuring. All I know is they will have a concert pianist as a guest next fall playing Rachmaninoff during an all-Russian themed performance. The winter concert is a collaboration with the Legacy Chorale for Beethoven's 9th Symphony. Next spring has the most exciting event of all, Shakespeare and Orchestra! The Heartland Symphony Orchestra will be playing music from Romeo and Juliet (sorry, I didn't catch the composer) and local actors will be staging various scenes from Shakespeare's play. I happen to know who one of the actors will be, and he has some strong ideas of who could play Rome and Juliet. Can't wait!!! I offered any help I might be able to provide. Costumes will be provided by our very talented Ruth Gemeinder.
Go. Create. Inspire!
Journaling Prompt:  Are you part of any community groups like the orchestra, choir, theatre? What would you like to see offered in your area?