Quote of the Day:  To get away from one's working environment is, in a sense, to get away from one's self; and this is often the chief advantage of travel and change. Charles Horton Cooley
On Thursday evening, Connie and I packed up and headed east for a Creative Women's Retreat at Emma's Country Garden Retreat Center. The snow was coming down thick and heavy. We ended up taking the long, way round. You can read about that in the post Scarlet the Abominable Sno-baru. But, once we arrived, we were wrapped in the creative energy of the women who came to retreat and share their weekend, and food, of course!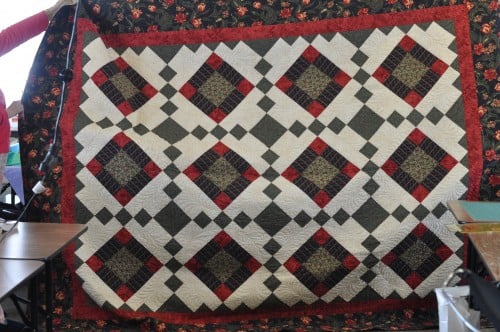 There were several quilters who were intent on getting work done while on retreat!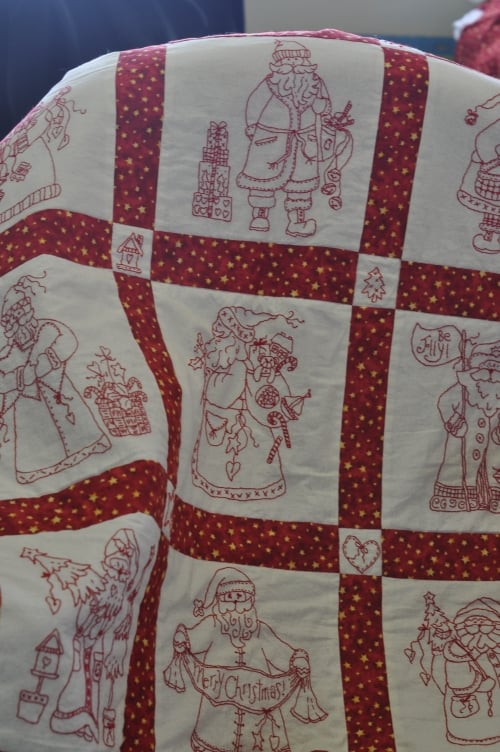 My friend Georgia Greeley invited me to the retreat. We met through the SCBWI (Society of Children's Book Writers and Illustrators) to form a writer's group, a few years back. Georgia taught book arts to a some of us. I had already learned the French twist and the simple fold, and new to me was the piano hinge.
We connected the piano hinge with bamboo sticks. I learned some new book arts words. Blank book sections are called quires. When it has words, it is a signature. We used a bone folder (a firm stick made out of bone, not a binder) to score our folds, and created a jig (pattern) to keep consistent in our cuts and notches. Also, it is a good idea to mark the head of all your pages, verses the tail, and to keep your spine aligned so that the fore edge looks uniform.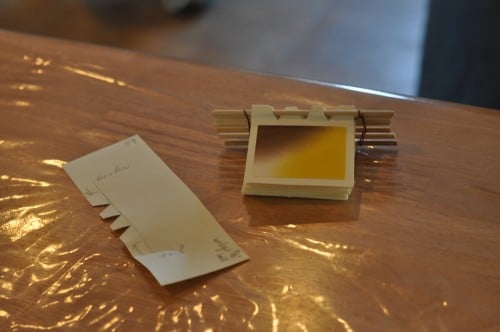 Materials needed for this project.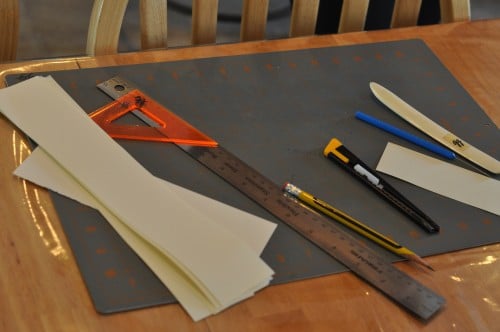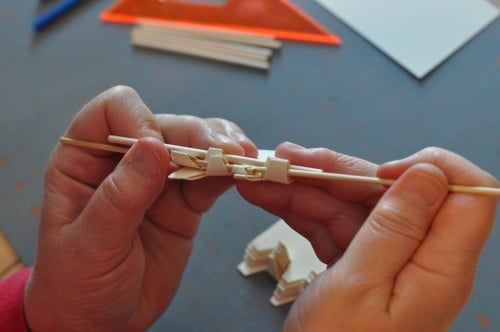 Georgia is weaving the bamboo sticks through the alternate folds.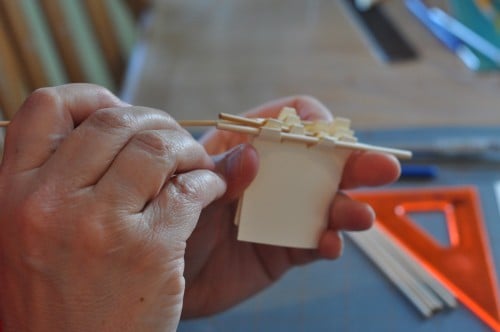 We bound the ends together with waxed thread. You can glue your cover pages together, or stitch them together with a pattern.
Mine is the upper right one with the red stitching.
The piano hinge spines
I love the music/piano terms used to describe this book art. As we were wrestling with the folds and stitching, one woman said, "No wonder they started out with scrolls!"
Book making was much more labor intensive in the early years of the printed word, not to mentioned it was literally printed by hand! We also talked about how books are becoming more and more of an art form verses an every day form of reading a book, or anything. Real paper books will eventually become collector's items.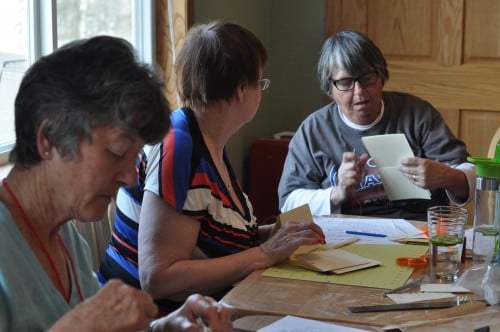 Intense workers: We'll figure this out!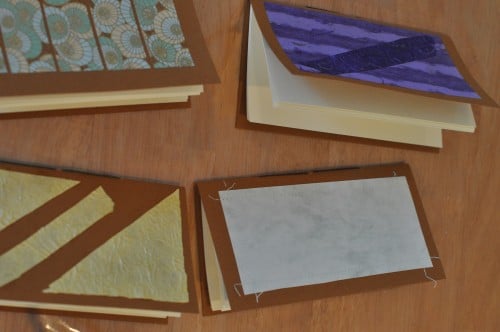 The simple fold looks a bit like a checkbook. I've used this one in teaching journal making, works great with kids. You can decorate the cover any way you like.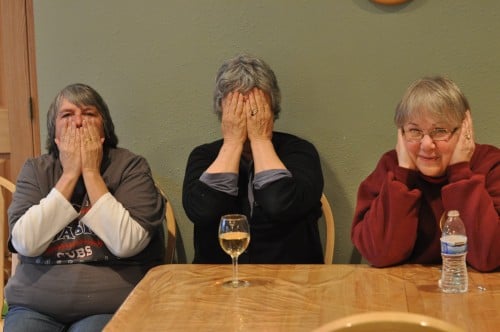 So, they want us to believe that they speak no evil, see no evil, and hear no evil, but there's always time to fool around at these weekend retreats!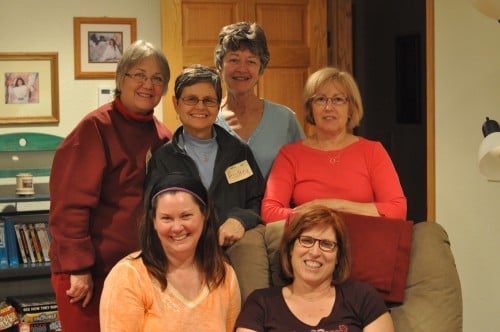 These ladies all read a part in the play that I'm working on, Grace Notes, Piano Bench Confessions: Georgia, Audrey, Leslie, Natalie, Mary, and Maureen (She played Grandma Grace, hence the sleepy look in the rocking chair!)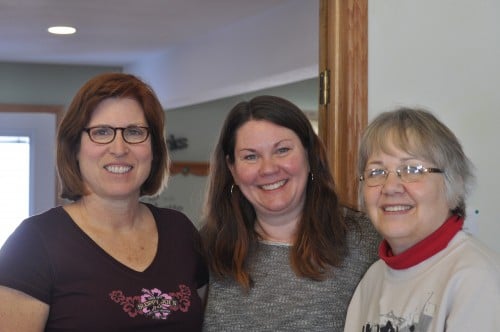 The three writers, Maureen Webster, Mary Aalgaard, and Georgia Greeley
When I go to these things, even writer's retreats, I can feel a little inadequate because I don't have a quilt or other art project for people to see and admire. I don't have any physical books to sign and sell. My words are in the clouds, like this blog post. So, for me, the highlight of the weekend was when we writers invited people into the living room for a reading. Maureen shared what she's been working on. I read Georgia's picture book (unpublished) out loud, and the above six women read from my script. Of course, it sparked great discussion on ballrooms, mothers and daughters, dementia, aging, and missing loved ones. I've been in writer's groups and on writer's retreats, so I've done the sharing before. But, for many of the women, this was their first time experiencing a writer sharing her work in a group setting. It filled me with encouragement and enthusiasm for my play, and my writing in general.
Thanks, Ladies, for coming to the retreat; Georgia, for inviting me; Connie, for being the travel partner extraordinaire, and Maureen, another writing buddy, for meeting me there.
Today on Beth Stillborn's blog, By Word of Beth, I am in the spotlight. Thank you, Beth. We are on each other's team of supporters. The badge on the sidebar shows her editing website, Flubs2Fixes. If you need her services, click on over!
Go. Create. Inspire!
Journaling Prompt:  Have you ever been on a creative retreat, or any other kind? What type of retreat would get you out of the house and spark some inspiration?