Quote of the Day:  You are all standing in the light of the promise. Paul Oman, artist, after finishing his live painting at Trinity Lutheran Church on Sunday, March 2, 2014.
I've seen Paul Oman in action before. We attend a camp called Mount Carmel, located near Alexandria, MN on lovely Lake Carlos. We've been going there for years. It's a family camp, and my mom was the first to attend it, as a 10-year-old girl, with her family in 1948. Paul is an artist who went to school to be a science teacher who loved illustrating his lessons who later felt the call to go into the ministry who became an ordained Lutheran Pastor who loved illustrating his lessons which evolved into doing artist ministry full time. I find it fascinating to watch him paint out the story during a church or musical service.
Hey, kids, what do you see in this painting? He had many great answers. One sharp-eyed girl could see the donkey, lightly etched, before Paul brought it to life with his paint. He had a few pencil marks on this mural. Usually, I don't see anything but a few brush strokes. The rest comes from his inner eye.
We're about halfway through the service here.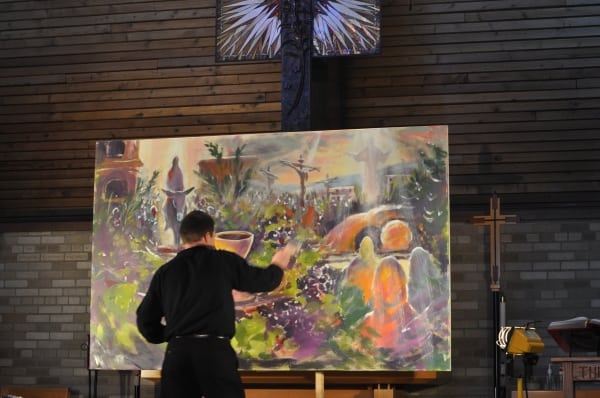 He's almost done when he takes a brush and adds white paint, streams of light, falling on the images in the painting, extending out to the audience. We are invited into the painting, into the promise.
You can find out more about Paul Oman and his mural ministry, Drawn to the Word, on his facebook page, or Paul Oman's website. Paul has traveled all over the United States and to China. His ministry, artistic talents, and creative career are inspiring.
Go. Create. Inspire!
Journaling Prompt:  Besides the performing arts, have you ever watched an artist in action? Have you ever done a live demonstration of your art?