Quote of the Day:  Everything takes place in a concrete world. Sheila O'Connor, visiting author/teacher to Brainerd, MN for our Elements of Creative Writing series, sponsored by the Five Wings Arts Council. Because of the sponsorship/grant these classes are practically free to participants in this area. Thank you, Five Wings!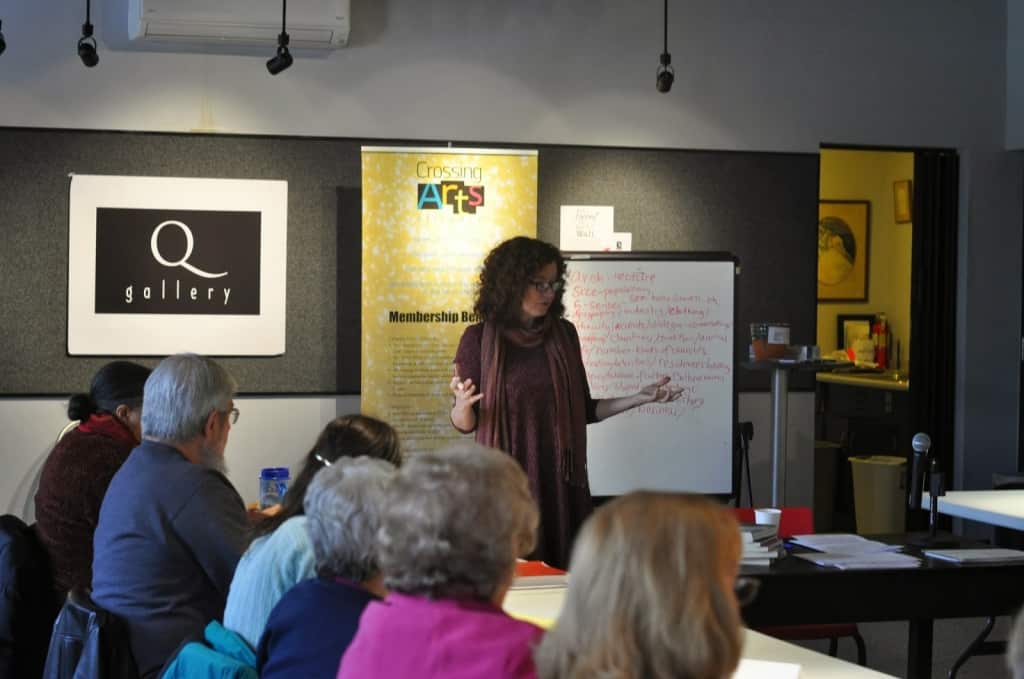 Sheila O'Connor, asking the class to list some of the elements that create a setting/sense of place.

Fabulous workshop! Creating Place in Fiction was the title of this workshop. Sheila will be back in two weeks for Creating Character in Fiction. She went on to say, when it comes to our setting, you need to know it fully, experience it mentally, and create it through significant detail. Ask yourself, What sort of place is this and what are its peculiarities? She had us close our eyes and visualize the place. I used a real place from childhood that I'm comparing to the (sort of) fictional place I'm using as the setting for my next play, the piano teacher's house. The title of the play is Grace Notes: Piano Bench Confessions.


My hand, scratching out the mind map of my place.
The place where I first took piano lessons:
Grandma Grace and her house are nothing like where I first learned to play piano. I took lessons from Mrs. K. at the parsonage of our Lutheran Pastor. It smelled like smoke – and nothing else. I never saw dinner cooking or a pan of bars on the counter like we had at our house. One time, Nancy (my older sister) went first for lessons (usually I went first). I asked Mrs. K's daughter, who was a few years younger than me, if they had any cookies. We climbed on the counter and pulled down a bag of store bought cookies. Mrs. K. came into the kitchen and scolded us. She said, "I thought I could trust you, Mary. That's why I had Nancy go first today."
I think she had a baby grand piano. I can see it in the middle of the living room by the picture window. They had a few sparse pieces of furniture, and not much on the walls, which were white. I can see some kind of fern in the corner.
I don't remember Mrs. K. ever touching me or the piano keys. I see her bony hands, fingers clutching a pencil, asking me how to make the & sign, (the shorter way we do when we hand write it). And, always watching the lights blink on her wristwatch with no numbers. The lack of numbers bothered me.
I learned how to play piano there, from Book One, "The Typewriter", a song with only middle C, to "Swan Lake." I remember playing "Swan Lake" for Mrs. K. and picturing the figure skaters gliding across the ice.
I must have gone to that smokey, plain house for three years, then switched to lessons at the parsonage in Halstad. That wasn't much better, and I had to walk there after school, across town, over the railroad tracks, and find her house on my own. That was the 5th grade. 
In 6th grade, Mrs. Westbrook started teaching at our school. She came to get me every Tuesday at 9:00 for my lessons. Otherwise, I'd forget to go. One time, she stopped in the middle of the lesson and said, "It is so much fun teaching you." Mrs. Westbrook carried nail clippers in her purse and would trim my nails if they clicked on the keys.
No one forgets Grandma Grace (in my play), even as she loses track of time and place and confuses the names of her own daughter and students. And, it's the music that she always remembers and keeps her in the present.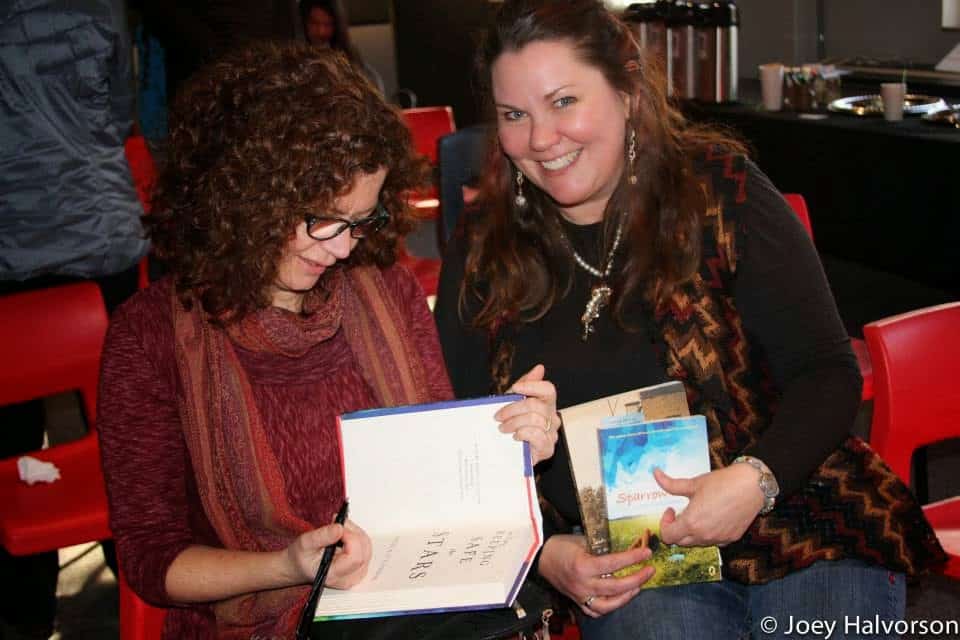 Sheila O'Connor and Mary Aalgaard, signing my books.
Photo by Joey Halvorson
Thanks for the great writing exercise, Sheila!
Journaling Prompt:  Take a moment and visualize the place that you are creating, whether real or imagined, then start writing!