Quote of the Day:  (from a press release from The Children's Theatre Company in Minneapolis)

The Very Hungry Caterpillar, Little Cloud and The Mixed-up Chameleon are beloved award-winning children's books by
illustrator and writer, Eric Carle, and Mermaid Theatre's magical use of black light and colorful puppets are pulled straight from the pages of Eric Carle's books. Throughout the tour audiences have been advised that Hungry Caterpillar is a "nonshushing show," encouraging audiences to allow children to respond vocally to the performance. Jim Morrow observes,
"When you're a child you're so free and uninhibited. As theatregoers we grow up and lose that sense of freedom,
inquisitiveness and desire for interaction, impulses that are 'shushed' out of us." Morrow claims performers have a way of
coaxing the active viewer out of its shell.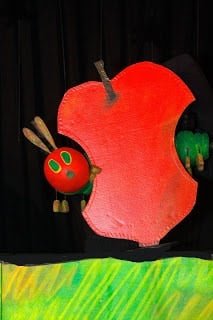 The Very Hungry Caterpillar 
photo by Margo Ellen Gesser

A very exciting thing is happening in the theatre world! Theatres are offering sensory friendly performances, especially geared towards audience members on the autism spectrum. 

On Saturday, February 8 at 11 a.m., CTC will offer a Sensory Friendly performance of Hungry Caterpillar, developed in partnership with the Autism Society of Minnesota. Sensory-friendly performances are designed to include people with sensory, social, and learning disabilities. Alterations for the sensory-friendly performance will include: reduction of loud or jarring sounds; modification of house lights during the performance; and reductions in flashing or strobe lights. Families with shared challenges can comfortably enjoy the production in a low-risk environment.

I first heard of this type of performance from the Biker Chef's daughter Alyssa. She works for the Pittsburgh Ballet Theatre who offered a sensory friendly performance of The Nutcracker this past December. Alyssa was a key person in getting this started for the ballet company and received an award from The Kennedy Center. Here is a link to a beautifully written review of the performance from the Pittsburgh Post-Gazette.

Way to go theatres for creating opportunities for all audiences and making them accessible for anyone! I would love to be in the audience for one of these performances to experience the adjustments they make and see all the happy, excited kids and their families enjoying a show together. Considering the excellent work at The Children's Theatre Company in Minneapolis, I expect it to be engaging for anyone in attendance.

I'll be viewing and reviewing The Very Hungry Caterpillar this Friday. (I'd better pack extra snacks!) This show runs from January 14 – February 23, 2014. They are also offering performances in French and Spanish. Click over to their website for more information.

Go. Create. Inspire!

Journaling Prompt:  Have you ever experienced a sensory friendly performance? Do you know someone who would be more comfortable as an audience member with this type of environment?