Quote of the Day:  Did you know there are more than 1500 versions of "Cinderella" from all over the world? The origins of the story date back to the ninth century China! The modern version, written Charles Perrault, is over three hundred years old! What all these stories have in common are the essential qualities in CTC's production as well, that whatever its title, "Cinderella" is a story of hope, redemption, and perseverance. excerpt from the program of the Children's Theatre Company production of Cinderella.

The Children's Theatre Company in Minneapolis, under the direction of Peter C. Brosius, is definitely putting its own unique spin on this classic tale. Their production of Cinderella is filled with over the top humor, slapstick, physical humor, modern pop culture references, and audience participation. This is not your typical Disney-style princess show. This Cinderella, and her hilarious step-sisters and mother, entertains girls and boys of all ages. The audience was roaring with laughter, shouting, standing up, and sitting back breathless from the beauty and pacing. Bravo, cast and crew! Don't leave your boys at home, they will be hooting and hollering at Dean Holt and Reed Sigmund, who play the stepsisters, Autumn Ness as the wicked Stepmother, and a large ensemble cast of dancers with high energy, gorgeous costumes, and a fascinating set.  I'll let the photos, taken by Dan Norman of CTC, illustrate.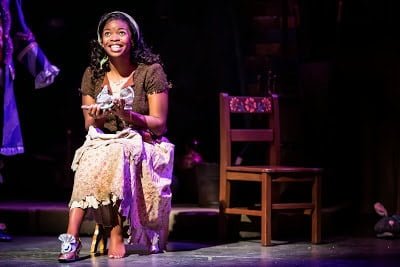 Traci Allen as Cinderella
Can a poor, orphaned girl really dare to dream of beautiful dances and magical nights?
What happens when she tries on the slipper?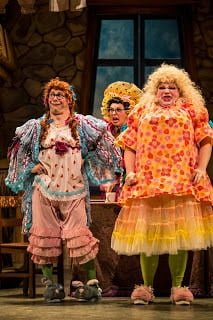 Dean Holt as Pearl, Reed Sigmund as Dorcas, and Autumn Ness as the Stepmother
Who might try to get in the way of Cinderella's happiness?
Nathan Barlow as the Prince
Everyone wants a piece of the Prince!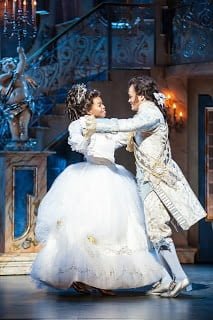 Traci Allen and Nathan Barlow
Dreams really do come true.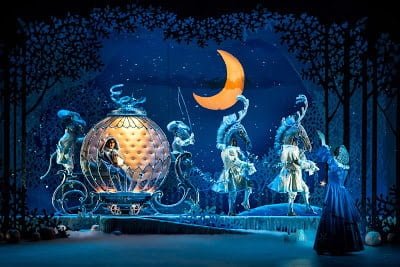 Magic, dreams, sparkles, and help from your friends, what more does a girl need to feel loved?
The Children's Theatre Company makes this a holiday show with the addition of a family gathering, storytelling, dancing, and holiday songs. Victor Zupanc, musical director, adds some original music and modern songs to Cinderella. I think he's the hardest working person in the the entertainment industry. I've seen his name in several places and admire his excellent work.
Cinderella is playing at the

Children's Theatre Company in Minneapolis

, November 12, 2013 – January 5, 2014. Call or stop by the box office on Sundays at noon if you'd like to try to get $10 tickets for the shows in the upcoming week. Each show has a few $10 seats available. Otherwise, call or visit their website. 612-874-0400. 
I'll post about our behind-the-scenes experience at the Children's Theatre Company later. My friend Krista and her daughters accompanied me and I was able to take some fantastic photos and learn more about the art of making theatre. It was one of the best days EVER! 
Traci Allen (Cinderella) with Rebekah and Leah
Also, I have a pair of tickets to give away for Cinderella, Thursday, November 21, 7:00 pm. Leave a comment here with your email, or leave a comment on facebook, or email me at mary.aalgaard@yahoo.com with subject line: glass slipper, if you'd like to be included in the drawing. I'll close the offer on Monday, 11/18/2013 at noon and announce the winners. I'll also email the winners.
Journaling Prompt:  Have you ever been on a behind the scenes tour? What did you do? Where would you like to go behind the scenes?