Quote of the Day:  
"Templeton was down there now, rummaging around. When he returned to the barn, he carried in his mouth an advertisement he had torn from a crumpled magazine. 
How's this?" he asked, showing the ad to Charlotte.
It says 'Crunchy.' 'Crunchy' would be a good word to write in your web."
Just the wrong idea," replied Charlotte. "Couldn't be worse. We don't want Zuckerman to think Wilbur is crunchy. He might start thinking about crisp, crunchy bacon and tasty ham. That would put ideas into his head. We must advertise Wilbur's noble qualities, not his tastiness." 
― E.B. White, Charlotte's Web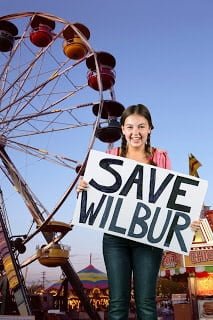 Photo by Dan Norman, featuring Emma Thvedt as Fern
Thank you for participating and congratulations!
I hope you enjoy the show!
Remember that the Children's Theatre Company offers a select amount of $10 tickets for shows. You need to call, or stop in to the box office, on Sundays, starting at noon. The tickets are available for the upcoming week. You can also visit their website (link above) or call, 612-874-0400. The show runs September 17 – October 27. That means, their first performance is tonight. Break a leg! And, Save the pig!
Journaling Prompt:  Have you ever saved anyone or anything?