Quote of the Day:  from the musical and title song by Cole Porter, Anything Goes

In olden days a glimpse of stocking was looked on as something shocking but now, God knows, Anything Goes.

Good authors, too, who once knew better words now only use four-letter words writing prose…Anything Goes.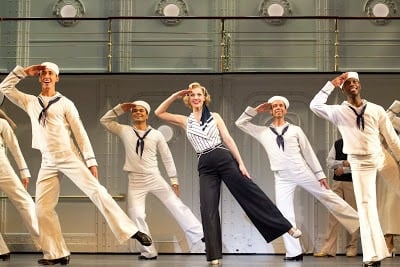 Roundabout Theatre Company's ANYTHING GOES Pictured: Ryan Steer, Bobby Pestka, Rachel York, Jeremy Benton, Kristopher Thompson-Bolden
Photo Credit: Joan Marcus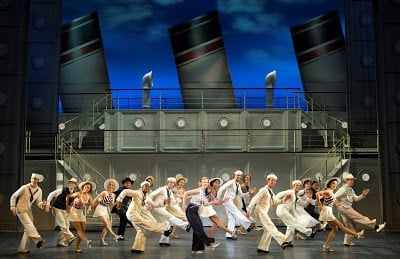 Rachel York and Company
Photo Credit: Joan Marcus
The pure theatrical delight of Anything Goes, particularly it's title number, are the talk of the town (state, and every stop along the tour). Imagine, the gorgeous actors singing and tap-dancing to this classic song to a packed house night after night and receiving thunderous applause. They are stunning, the acting superb, every detail glimmers of classic musical theatre. What a treat to see this show. You are transported back in time by the graceful movements of the dancers, the flowing costumes for the ladies, and the dapper looks for the men. And, what lady can take her eyes off a handsome man in a sailor suit?
Alex Finke (as Hope Harcourt) and Erich Bergen (as Billy Crocker)
Photo Credit: Joan Marcus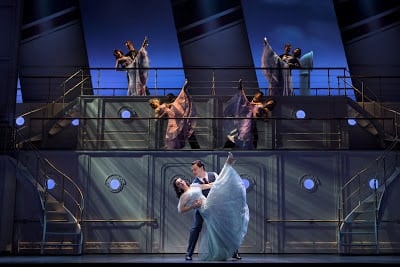 Roundabout Theatre Company's ANYTHING GOES.
Pictured: Alex Finke, Erich Bergen and Company
Photo Credit: Joan Marcus
Scenes like this make you believe that falling in love, and being swept off your feet, is still possible.
Some shows give you meat and potatoes, food for thought. Some can leave you feeling a little uncomfortable in the way they bring dark reality to light. Others reflect modern cynicism. Anything Goes offers a sweet escape. You are drawn into the beauty of the show and your troubles drift off for a couple hours. You might even find yourself tapping your own feet and wondering if it's not too late to learn how to tap dance, or wear gorgeous gowns, dance your way into a woman's heart, or fall in love.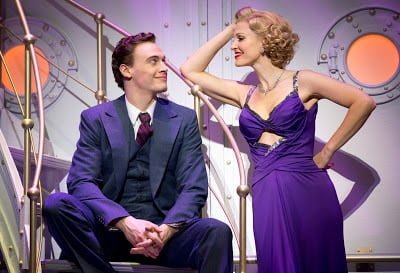 Erich Bergen (Billy Crocker) and Rachel York (as the amazing Reno Sweeney)
Photo Credit: Joan Marcus
Some songs, like You're the Top, help you realize that a relationship is more friendship than romance as you highlight the best in each other. (I loved this number.)
Roundabout Theatre Company's ANYTHING GOES. Pictured: Rachel York and Company
Photo Credit: Joan Marcus
The Roundabout Theatre Company is touring the revival of Anything Goes, music by Cole Porter. It's not the same show you might have done in high school or watched at your local community theatre. There are some changes and additions. Joy, my sister, attended this performance with me. She was in a community theatre production of Anything Goes in the Portland, OR area a few years ago, and she quickly noted some differences. Some of the staging and songs are different. There is definitely great energy and spirit to this show. The costumes are probably a bit more risqué than what audiences saw back in the 1940's, or at their small town theatres, and the movements kept mostly to the style of the times with a hint of modern influence.
One scene that made me cringe was when Erma and Moonface Martin (Public Enemy number 13) are in his cabin, hiding out. She dresses up to get out and meet the sailors. He doesn't want her to leave, so he takes out his gun to prove how serious he is about keeping her there. In our world where violence against women is still a terrible problem, you cannot make light of it. In every other way, this show is fun, delightful, and lifts your spirits. That one action changed the mood for that scene.
Anything Goes is playing at

The Ordway

in St. Paul, MN, May 7-12, 2013.

The Roundabout Theatre Company

 is on tour and nearing the end of its run. Next stop, Grand Rapids, MI. Check their site to see if they're coming to your town, or click over there to view their promo video. You'll get a glimpse of this stunning show.
Journaling Prompt:  Do you know how to tap dance? What new artistic skill would you like to learn?