Quote of the Day:  There are those who have little and give it all.  These are the believers in life and the bounty of life and their coffers are never empty. Kahlil Gibran

I had the privilege of interviewing Jean Kruger for an article for Her Voice magazine, a local publication that has global appeal. Her Voice recently celebrated 10 years of publishing success. I am so grateful to be part of this inspiring magazine. Jean started going on mission trips to Haiti in January 2008. There she met and fell in love with a little girl named Naomie, whom she sponsors. Jean was there when the earthquake hit, and has returned many times since. To read her story go to Her Voice on the Brainerd Dispatch website. The story starts on p. 18.

Thanks, Jean, for all you do for the children of Haiti and to make the world a better place.

Thanks to all those who have served in the military and to their families who waited and worried. And, most of all remember why we have a Memorial Day. My Boy Scouts are helping the VFW hang flags at the cemetery this morning.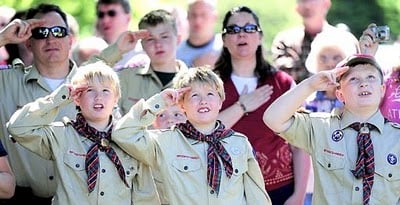 This photo appeared in the Brainerd Dispatch, May 2010.
Me with my Boy/Cub Scouts

Go. Create. Inspire!
And, remember to spend time with those you love.

Journaling Prompt:  Write about someone you know who helps to make the world a better place.