Quote of the Day:  What's easy to get into, but hard to get out of? Cricket asks Pinocchio. The answer: Trouble! And, as you probably already know, Pinocchio finds himself in all sorts of trouble on his journey to go to school and learn how to be a real boy.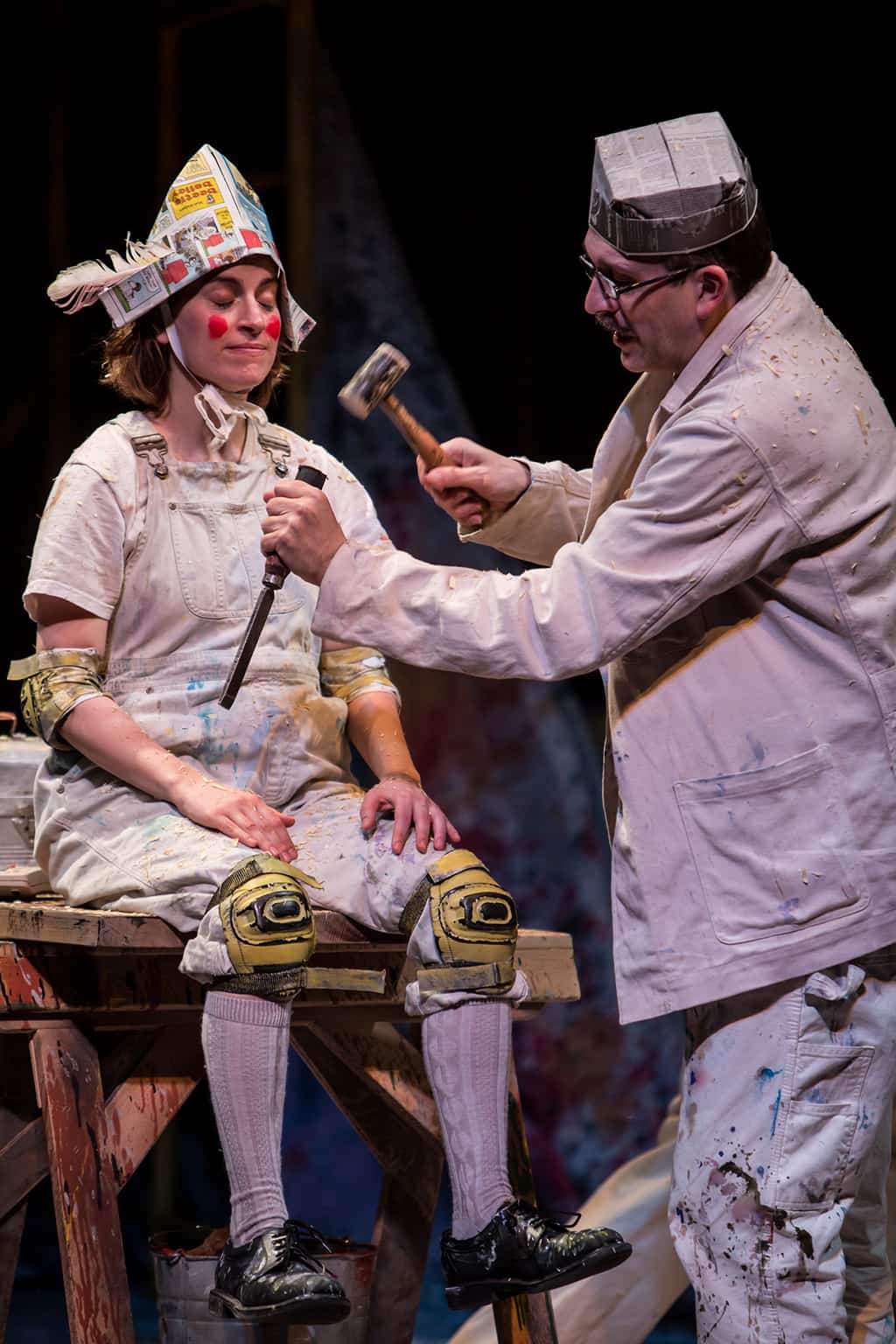 Gepetto chisels a boys puppet out of a block of wood.
There is a real boy in here somewhere.
All photos provided by the Children's Theatre Company for press purposes.
Dan Norman Photographer
Elise Langer playing the worker who portrays Pinocchio.
Pinocchio and the bullies (Bradley Greenwald and Dean Holt)
(Elise Langer and Maggie Chestovich as the workers telling the story of Pinocchio)
Who do you trust when you are a wooden puppet on a new adventure?
Maybe not a cat and a fox.
Sometimes, a puppet can feel lost in a big, scary world.
Feeling real love and caring for someone else means being a real boy.
When you go to see Pinocchio at the Children's Theatre in Minneapolis, you might think that they aren't ready for you, yet. The set is paint cloths and scaffolding, with buckets and brushes lying around. The actors are in work clothes and seem distracted until you arrive with your energy and eagerness to watch them tell a story. They look at you. They listen to your cries to tell the story, and they hear you taking in your breath as the magic unfolds. They hear your giggles and encourage you to help Pinocchio on his way. With the tools used to build a set, the actors find props and instruments, costume pieces, and tiny objects that can produce big whales. The show is engaging and lively. The actors feed off the energy of the audience from preschoolers to grandparents. I heard kids who were so involved in the story that they shouted out encouragement and advice. It was delightful. Take the whole family. I brought three teenage boys, and they liked it. I saw smiles on their faces and heard them laughing. The message of Pinocchio and his journey speaks to all of us as we try to find our path, get distracted from our goal, and even lose our way at times. To be a real boy (or girl) you have to feel real love for the people who love you back.
I think love is the theme of The Children's Theatre Company. The actors seem to truly love telling stories. The audience loves to watch it. All of the people behind the scenes love to create the magic for us. At the end of the show, one young audience member shouted, "Tell it again!" And, they will, from January 15 – February 24, 2013.
Journaling Prompt: What goes up and down, but never moves? Go to Pinocchio to find out the answer!