Quote of the Day:  From deep personal pain comes great literature and art. My own observations as I watched A Long Day's Journey into Night by Eugene O'Neill, currently playing at The Guthrie Theater in Minneapolis, January 12 – February 23, 2013.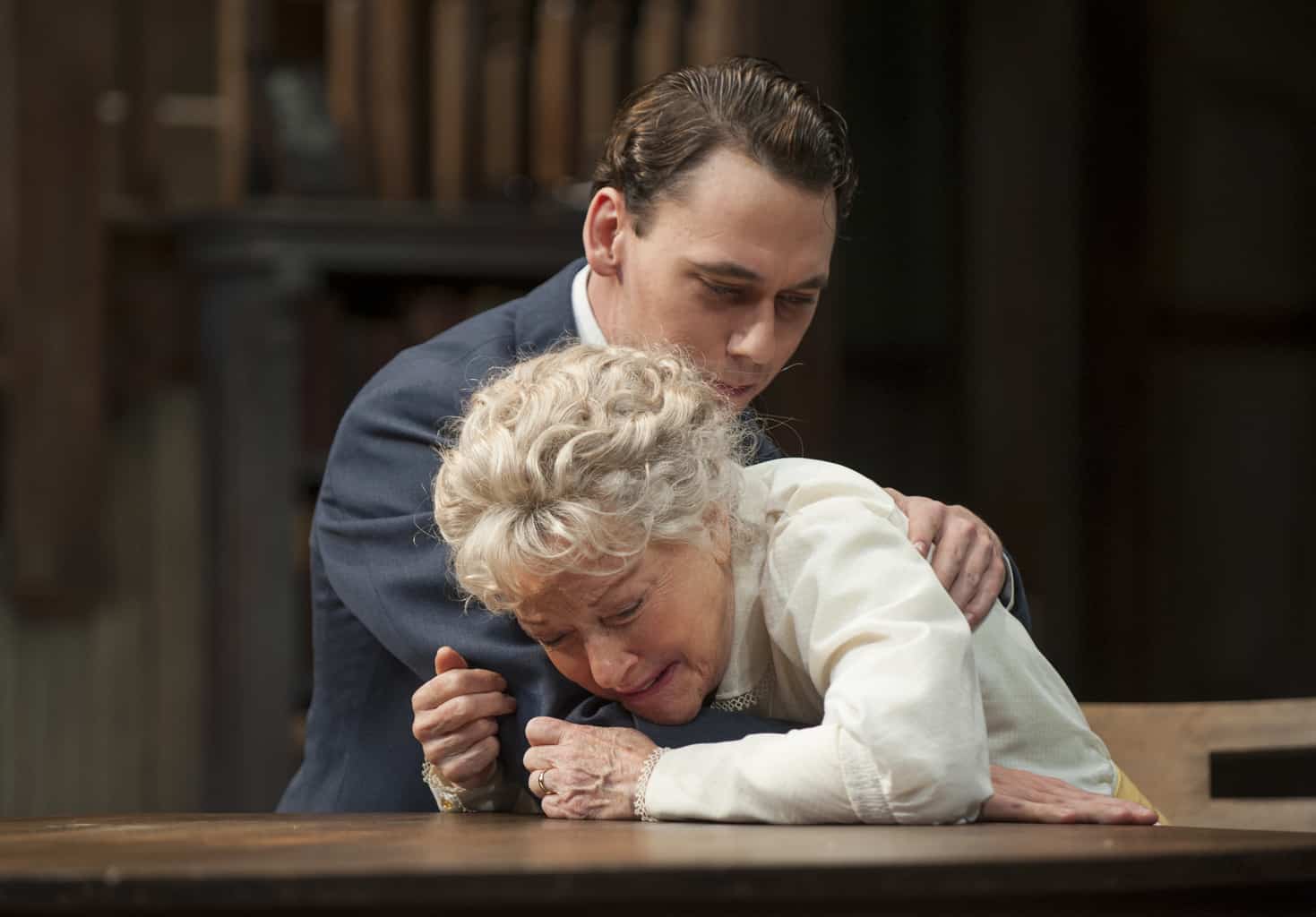 John Skelley (Edmund Tyrone) and Helen Carey (Mary Cavan Tyrone) in the Guthrie Theater's production of Long Day's Journey into Night, by Eugene O'Neill. Directed Joe Dowling, set design by John Lee Beatty, costume design by Ann Hould-Ward and lighting design by Christopher Akerlind. January 12, 2013 – February 23, 2013 on the Wurtele Thrust Stage at the Guthrie Theater, Minneapolis. Photo by Michael Brosilow.
Eugene O'Neill won his fourth Pulitzer Prize for this play which was produced posthumously. He asked that it not be produced until 25 years after his death because of its autobiographical nature, but Stockholm's Royal Dramatic Theatre didn't wait that long. They produced it in 1956, just three years after O'Neill's death.
This is a heavy drama. The "Tyrone" family is a mess. At first, they try to pretend that "It's all good." That persistent cough and loss of appetite, "It's just a summer cold." Oh, and if you drink more than your dad thinks you should out of his whiskey bottle, just add a little water to bring the liquid back up to the mark, "He'll never notice. He'll be too sauced himself." And, mom drifting away, thumping around at night, and missing a few beats here and there, well that's just due to loss of sleep because dad snores and Jamie snores and she's worried about Edmund's cough.
The Tyrone family is in denial at the beginning of the play. As the day progresses and the addictions become more apparent, so does the reality that they're trying to avoid.
Helen Carey who plays the mom Mary Cavan Tyrone is amazing. From the moment she walked onto the set, I knew she was Mary Tyrone. I felt her anguish. I never once thought of her as an actor portraying a character. She was Mary Tyrone, gripped by personal tragedy and depression, coping with abuse of perscription drugs (turns out to be morphine), and drifting further and further away from her family.
I don't know if it was due to the directing, the costuming, or the role interpretation, but James Tyrone never came across as a retired and frustrated actor. He seemed more like a crabby, old businessman who was as tight with his money as he was with his affection. The boys were swallowed up by their own illnesses, alcoholism and "Consumption" (tuberculosis), and angry at their father and disappointed in their mother.
The entire show is played out in a day, from the brighter lights at breakfast to the dimness of evening. Mary Tyrone comes out in the morning with the loveliest yellow skirt, still trying to keep grounded in the family. In the second act, she wears blue literally and figuratively and succumbs to her need to escape into her drugs, until the end when she emerges from the attic in a ghostly white dress. We know that she is but a spector of herself and floats out of the present and back to a time when she thought she was happy.
If you like realist dramas and the works of writers of the early 1900's, you will appreciate this play. It felt a bit long to me. Although I know that on the Thrust stage we can expect to look at the actors' backs from time to time, I felt like the staging of the scenes had the actors turned away from us too much (and I was in the center seating). This would be a great show for a college class to watch and discuss characters, personal pain, storytelling, and what works on a stage with today's audience.
Journaling Prompt:  Have you ever watched a show where you wanted to offer some help to the characters in the end? I was ready to look up where the nearest AA meeting was, or suggest family counseling.