Quote of the Day: A poem from the book Farm Girls by sisters Candace Simar and Angela Foster

In the Middle of the Night

Hunkered at the kitchen table
plaid bathrobe and red slippers
thick glasses resting on his nose
smoke curls from dangling Camel
he sucks deep

Engrossed in turning pages
he doesn't turn his head, doesn't know I'm there
doesn't notice a mouse scurry under the refrigerator

What are you reading, Daddy?

He looks then, turns the book upside down on the table
black letters bold on the book's spine
Of Mice and Men

by Candace Simar

Candace Simar at the book signing and poetry event for Farm Girls
Krista, from Blue Cottage Agency, and the Crossing Arts Alliance in Brainerd put out an All Call to local poets for a Poetry on the Wall experience. Here's a mug shot of what the walls look like and the people who made it happen.
Chiranjeet, Krista, Richard, Millie, and Zishan.
Thanks for all the work you put into this event!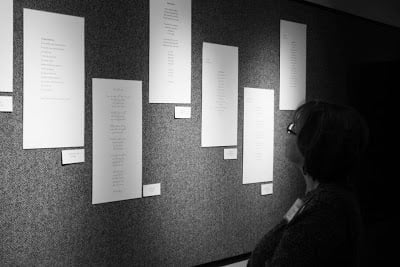 Photo by Richard Andrew
On Saturday, January 26, 2013, I walked into the packed room of the Q Gallery in the Franklin Arts Center, standing room only, and listened as these brave poets got up and read their work. Some of them said that they'd never read their poems in public before. I'd read a few of the poems as I walked around the room the other day, but hearing them read out loud gave them life. I was so proud of my fellow artists.
In addition to the poetry readings, Candace Simar and her sister Angela Foster shared from their recently published collection of poems and essays in their book Farm Girls.  Angela's poem, Secret, received a few chuckles, which starts out, I love Eminem, the bad-boy rap singer. A middle-aged farm woman from small town Minnesota is not supposed to enjoy rap music. But I do.
You'll have to buy the book to read the rest. It's great! You can find a link to it at the authors' websites or Blue Cottage Agency.
Candace, Angela, and Mary
Also, what grabbed my attention from the writing of these sisters is their dreaming of one day sitting on Oprah's couch, reliving the antics of growing up on a farm in Minnesota, becoming writers, and sharing their poems and stories with the world.
Dare to dream, folks. Dare to put the words on paper, or create your images. You never know who might end up on Oprah's couch!
Journaling Prompt:  Where did you grow up? Recreate it on paper or in your art.