Quote of the Day:  Words spoken (written) by Anne Frank
I want to be a real writer some day.
I want to bring enjoyment to people, even those I haven't even met. I want my words to live on even after I die.

And, of course, they did. She tells Peter, "If I didn't write, I'd explode." I know how that feels. And, because of her need to write, her gift is shared with millions, years and years after her cruel and senseless death at age 15 in a concentration camp. I have felt a connection with Anne and her love of writing ever since I read the play for the first time when I was an 8th grader. I've seen the play performed several times, and this production at the local college/Brainerd community theatre was different. It is a newer adaptation of Anne's diary. I had a stronger sense of their religion and customs in this version. Anne speaks more openly about her body and sexuality, though not overtly, rather as most girls do as they're growing up and curious about their bodies and who they will fall in love with. I felt more of a tenderness between Anne and her mom towards the end of this production than I've ever felt. Usually, Edith Frank is portrayed as strict and critical. This Edith had a softer side. I understood better what her fears were and that Anne pushes her mom away, as many young teens do, and feels a closer connection to her father.
Another scene, new to me, was when the group pauses and listens at the end of the day. Anne is lying on the floor, writing in her diary, and puts her ear to the floor. We can hear the noises of people saying good-bye and closing the door. The people in the annex breath a sigh, then get up and move around. They find their shoes, start cooking dinner, and race to use the WC (bathroom).
I hear those words again, that Anne wrote, "I want my words to live on even after I die." I think of how many times and in so many places that this play has been produced. How many girls have played Anne and kept her alive through their portrayal of this young, energetic girl who wanted so desperately to see the good in all people. For more details on publication of her diary and productions of the play and film, start here at Wikipedia's Anne Frank entry.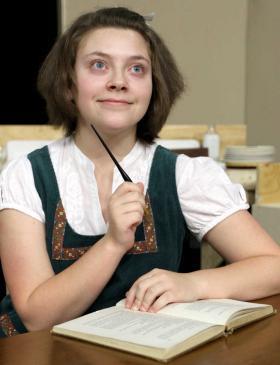 I thought that Linda Nichols looked and sounded the way I picture Anne Frank. With her wide, beautiful, expressive eyes and sweet voice, you are drawn into her personality. She's innocent and honest and so wise beyond her years. Kevin Yeager played Otto Frank with the caring heart of a dad. I know he has daughters and the tears at the end felt real as he says, "My whole family is gone."
I missed seeing the scene from the older version where Otto holds Anne's diary and says, "Not Anne, too." The line, the action, the caressing of her words gets me every time. How painful it is to know you couldn't protect and save your family. Dear Mr. Frank, you kept them alive by sharing Anne's diary and giving us her story to experience again again so that we don't forget what hate and greed can do to people.
Thanks, Erik Steen for such a great performance. You directed a fine cast for this important story, one that has always touched my heart.
"The Diary of Anne Frank" will be performed at 7:30 p.m. Oct. 4-6 and Oct. 11-13. There are two matinees at 2 p.m. on Oct. 7 and 14.
Tickets are $12 for adults, $10 for seniors and $8 for students, with general admission seating. For tickets and information about the show, contact the CLC Theatre box office at 855-8199 or by email at clctheatre@clcmn.edu. Tickets can also be purchased online at clctickets.com. (from The Brainerd Dispatch.)
Journaling Prompt:  What historical story do you keep feeling drawn to?