Quote of the Day:  Even if it doesn't work out, I will still act because I absolutely love it! Caleb Christiansen on his dreams of making a living as an actor. He is playing Eugene in our local production of Brighton Beach Memoirs by Neil Simon at the Central Lakes College here in Brainerd, MN. You can read my review of the show on my blogspot at The Brainerd Dispatch website.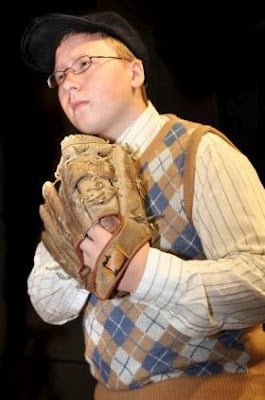 Caleb as Eugene
What I love (and loathe) about community theatre is that the actors are in the show for the love of the art. They do it because they enjoy performing and bringing a story to life on stage. None of them ever get paid. In fact, they pay to be there with their time, transportation costs, grabbing some fast food on their way to rehearsals after working a full day at another job, or taking care of family. What they might lack in polish and pacing, they make up for in passion. These actors would rather spend their evenings in a dark theatre than out on a lake in our beautiful lakes country because they are filled up by this art form.
When I attend a local production, I am observing from many angles. I'm there as a reviewer, looking for the elements of the play that I want to highlight for potential audience. I'm listening for the lines that stand out from the show, the ones that are memorable and illustrate the themes. I'm also there as a playwright and director. Who up there is inspiring me to write? Who would make a good character in one of my plays? What do I want to write that would showcase their talents? Who looks like they'd be fun to work with? And, I'm there as an actor and audience member. I know I've connected with a play when I start to imagine myself in one (or more) of the roles. I am aware of my own emotional responses. What made me laugh? What made me cry? What gave me those feelings of dread, angst, worry, or love?
What gives me the most joy about attending live performances is seeing all the other people who came out for the show. They also left the comfort of their air-conditioned home, or the beauty of the lakes country to sit in a dark theatre and watch their neighbors bring a show to life. For $6.50 that's cheap entertainment, and sometimes the college offers $1.00 night. What does that even pay for? The cost of printing the program?  Maybe they could put out a tip jar for starving actors?
Now, the choice for my Favorite Photo Friday:
Mary and the Boys at Summer Camp
I had a great week at summer camp with my four sons. It's a church camp with a fine arts feel (for our week anyway) and a great place to spend time with family. We had grandpas, grandmas, aunts, uncles, cousins, and friends (old & new). I'll write more about it next week.
And, support your local artists. Maybe even take one out to lunch. (Thanks, JeMA, for lunch yesterday.)
Journaling Prompt:  Why do artists give away their time and talents for free? How can we better support our local artists?