Quote of the Day:  England and America are two countries separated by the same language. ~ George Bernhard Shaw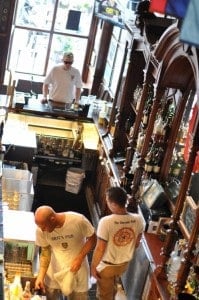 Congratulations,
Roxane
, for knowing this place!
She and her Eurospring mates from the college years met here to reminisce about their England experience.
The Biker Chef and the Writer
It was his first trip to the new Guthrie and my first visit to
Brit's Pub in downtown Minneapolis
. I figured, when at Brit's try the special – fish & chips. Yum. The Biker Chef splashed the malt vinegar in his chips (fries) the way the true Brit's do. I tasted it and decided to stick to my usual ketchup. Each culture has it's own way of doing, and eating, things. The German's liked dipping their fries in mayonnaise. Next time I go, I think I'll try Shepherd's Pie or the Scotch eggs. Bangers & Mash might also be good. What do you folks think of English fayre? Here's the
Brit's Pub menu
. Looks like a good line-up at a good price.
After we ate, we wandered around a bit, up to the rooftop lawn. The next day, they were having a Shakespeare festival and music. We were wishing we could stay in the Metro and see it. They also play games up here and have a big screen. Lots of lovely outdoor seating.
This would be a fun place to hang out with your mates.
I wanted to go in there, but wondered if I'd end up at the Ministry of Magic.
Who knows where the next adventure leads.
Go. Create. Inspire!
Journaling Prompt:  Do you have a favorite spot that takes you back to another time and place, a great space to hang with friends, or somewhere that feels like an escape?