First Ride
Coffee Shop Confessions leads to Romance.
The Biker Chef was just sitting there, hanging on my every word.
Little did I know when I stepped into the Coco Moon to schedule the performances for my first original full-length play, Coffee Shop Confessions, that I'd meet the Biker Chef who would add spice to my life. I knew it was a major moment in my creative life, but didn't know how life-changing it would turn out to be. My spark and enthusiasm sent some electricity to the man at the counter.
I had been isolating myself from dating, romance, and other entanglements, in part, because I needed time to rediscover myself after my divorce. In doing so, I focused on my art, my writing, a play whose characters' voices talked to me so much that I had no choice but to go to the coffee shop and let them out as I typed their stories into my computer. Was the Biker Chef aware of me, the quiet observer, writing in a booth? I have visions of him breezing through with his scones and muffins, or sitting at the counter, chatting with the owner and baristas, having his own contemplative moments.  Did he steal glances at me?
Because he was present at that moment when I set the date for my shows and made connections with me, I couldn't help but talk to him. After that, when I came back to the Coco Moon, and he was there, he'd say, "Hi." I'd say, "Hi" back. Then, one day, he bought me a coffee and talked to me. I gave him my card. He came to the encore performance of my show, despite it being sold out (I told him I knew the playwright and could get him in). We went out for drinks afterwards, then coffee, and soon I was on the back of his Harley Davidson, and I knew that my life would never be the same again.
Rider & Writer on their first ride together, May 11, 2012.
Before I agreed to ride, we talked about it. He said, "You have to trust me." I thought about it for a while. I talked to him some more. I listened to his voice. I read his body language. I looked deep into his eyes, and I saw tenderness and felt excitement. He picked me up on a Friday morning, brought me a helmet to wear (since I AM safety Mom), lent me his leather jacket, and I climbed aboard.

Ladies, I'm here to warn you that riding behind a man on a Harley is a very sensuous experience. Add to that the fact that we met under the spark of creative enthusiasm, and well, let me just say, I knew there would be more rides and that they'd (he'd) take me to places I'd never been before.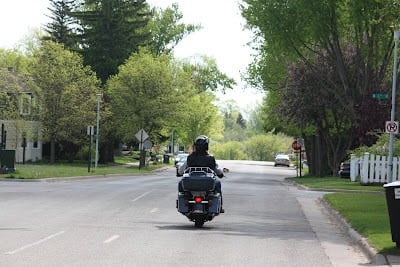 And, I believe, we'll experience some new roads together.
Jump on the bike!
Twist up the wick, and ride into your next adventure!