Quote of the Day:  We all have a job to do here. We can make a choice and work together to build a golden city. paraphrase from Robert Robinson from his concert in the Brainerd lakes area…Heaven on a Saturday Night, May 5, 2012.
It was a moment of Transformation.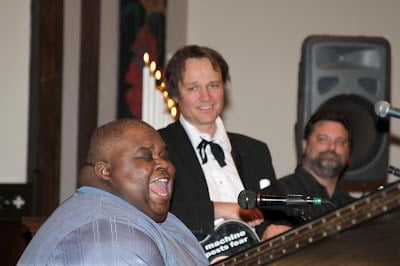 Robert Robinson, Timothy Frantzich, David Ballman
I sat up front, just feet away from the most powerful, soulful, gospel voice on the planet. The piano was an arm's length from me. I could see the subtle tick of facial expression as well as the wide open exaltation. Brother Timothy, Robert Robinson, David Ballman, and pianist David Billingsly created Heaven on a Saturday Night. There in the old, stone church in North Brainerd, I felt a transformation. This was not the kind of concert that we rural Minnesotans of northern European descent are used to. Uhn-ah, no, ma'am. No one was sitting straight and still with hands in their laps. These folks rocked the house. Their music, encouraged by our response, brought everyone to a higher plane. We were on our feet. We were clappin' and wigglin' our hips and tappin' more than toes and huggin' our neighbor. At one point, Robert challenged us to be a gospel choir. He said, "Let's raise it one step higher and make you a Black Gospel Choir."  He said that he'd never heard of people just stopping once they get into a song. You finally get'em going, and then they're done? No. You gotta keep singing.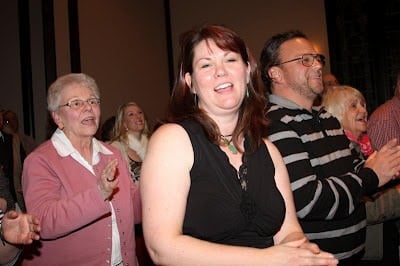 Okay, I might look a little drunk here as I'm singin' & clappin' & movin'. It's not alcohol, folks. I'm intoxicated by the music, the moment, and the energy.
We were rockin' the house, way up here in Brainerd, Minnesota, at the United Church of Christ. The performers encouraged us to sing along, to move something in response. (Who could sit still?)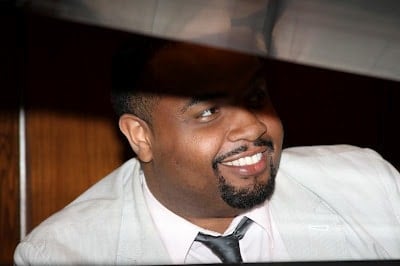 David Billingsly at the piano.
I watched in awe as David accompanied Robert Robinson. He'd often have his eyes glued to the singer. Robert sings from a deep well inside of him. I can imagine it's never the same song twice. David is vigilant, ready with his talented fingers to bring the song along, to give us waterfalls of transformation, to lift up Robert in places, and then have his moments to shine. It was a joy to watch him perform.
He seemed so comfortable there. Sometimes he'd lean forward, scrunch up one eye, listen intently to Robert, then take it away.
Fingers on the piano.
A touch of magic.
David said that tonight, at our concert, Robert went places he'd never heard him go before. He had his transformation. Brother Timothy said that when all three voices hit a chord in a song, he felt the transformation. I'm telling you, folks, you aren't living if you don't attend live performances. There is no substitute, and the feeling stays with you forever. It lifts you up. It transforms you beyond time and circumstance, and it gives you the energy to "build a golden city."
Journaling Prompt:  What inspires you to build a golden city?
Thank you, Joey Halvorson, for taking so many wonderful pictures and capturing the moment. She has more on her facebook page, and I told her she could subtitle the album, The Body Language of Music. mmm. hmmm.