Quote of the Day:  exerpts from Harold and the Purple Crayon by Crockett Johnson
One evening, after thinking it over for some time, Harold decided to go for a walk in the moonlight.
And he set off on his walk, taking his big purple crayon with him.
The sandy beach reminded Harold of picnics. And the thought of picnics made him hungry. So he laid out a nice simple picnic lunch…But there were all nine kinds of pie that Harold liked best.
Harold left a hungry moose and a deserving procupine to finish it up.
Harold kept his wits and his purple crayon.
He remembered where his bedroom window was, when there was a moon. It was always right around the moon. And then Harold made his bed. He got in it and he drew up the covers.
Don Darryl Rivera wrote and stars in this musical version of Harold and the Purple Crayon. I was thrilled to be invited to attend and review this show. This is one of my favorite children's books. I read it over and over as a child. Well, I suppose my mom had to read it over and over. Then, I did. And, I shared it with my own kids. I loved that purple crayon. I wanted to take my big box of crayons and have as many grand adventures as Harold.
The Children's Theatre Company in Minneapolis partners with the Seattle Children's Theatre to bring their shows to a wide range of audiences. Harold and the Purple Crayon comes to us from Seattle and the creative team; lyrics by Rob Burgess, music by Auston James, text by Don Darryl Rivera, and directed by Rita Giomi. Also in the cast are Khanh Doan and Caety Sagoian as the Storytellers, or crayons. Zach thought they were Harold's crayons. They help bring the story to life.
I was amazed at the brilliant and colorful set. The purple in the lines is just like the colors on the original book. They used light and ribbon to represent the lines that Harold draws.
The moon really does grow and follow Harold.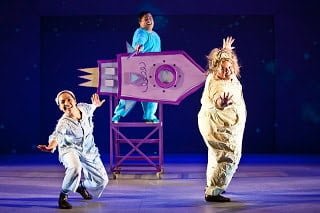 He has adventures in space and under the sea.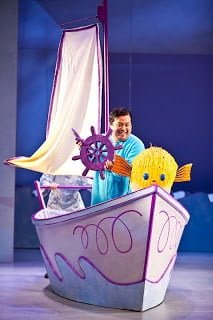 The use of puppetry was remarkable. Harold would draw his lines which would turn into projected or light images. They'd move around, then start to come off the "screen" and become real objects, like the tree, the moon, a butterfly, and stars.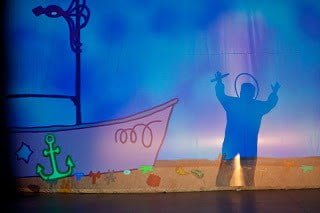 During this scene, I heard a kid exclaim, "Ooo. That's his shadow." There were many exclamations of delight and wonder, and so many adorable giggles.
I was so glad to see they made puppets of the hungry moose and the deserving porcupine. Plus, they gave them a giant pie, and while they were eating it, they sang about love. I was pretty sure they were singing about their love for pie. I know I would.
Harold and the Purple Crayon is a delightful, colorful, musical adaptation of the beloved children's book. There's a tenderness in this story that brings tears to my eyes. Maybe it's because I'm reminded of myself as a little girl, dreaming of creating magical things. Maybe it's because my boys are growing up. One is heading off to college next year, and Zach, who accompanied me to this show, is already 14, and was probably the only teenagers at this performance. And, my babies are in 6th grade. (I'm going to read them Harold tonight anyway.)
Zach and I both enjoyed the interaction with the actors after the show. They came out on stage and talked to us. They invited us to help them tell a story. I'll underline the details that were provided by the audience.
Once upon a time in New York, there lived a monster named Dorothy. Everyday, Dorothy would play until one day, someone wouldn't share. So, she ate him. And, then, she got eaten. Until, she spit him back out. And, now, they're friends.
It was a little like playing Mad Libs!
Go to The Children's Theatre Company for showtimes and tickets, and to see what's coming up. I saw a poster of Pippi Longstocking. Won't that be fun!
Go. Create. Inspire!
Journaling Prompt: Fill in the blanks from the above prompts and create your own story. Ask a kid to help if you get stuck.
Photos used by permission from The Children's Theatre Company. Taken by Dan Norman.