Quote of the Day:  Real Vaudeville shows would Drop The Cow on bad or overly long acts with "the hook", a shepherd's crook extended from offstage to pull away the performer. But in cartoons, you don't even need to be on a stage to get the hook. Any bad performance can get the hook, even if you're performing on top of a fence – it just reaches out from Behind the Black and drags you offscreen. Wearing a red-and-white vertically striped shirt and a straw boater makes you especially susceptible to this, as does dancing while holding a cane. Spending a while dodging the hook, continuing to perform all the while, before eventually getting snared is a common feature.

Though he didn't originate it, the hook is forever associated with "Sandman" Sims, a tap dancer who would use the hook on bad acts at the Apollo Theatre.
from www.tvropes.org
It's the first Wednesday of the month and year and another round of the Insecure Writer's Group. Alex J. Cavanaugh is the host and many, many of us bloggers have signed up. My hope is that acknowledging the insecurites, naming them and facing them, will be like staring down our dragon and slaying him. 
I was out the other evening with these lovely ladies for a pre-New Year's celebration and some collaboration. My best writer-mama-pal Roxane B. Salonen was visiting from Fargo, and we had dinner with my friend and publicist Krista Rolfzen Soukup. Sure, we talked a little business, but our main event was the delicious food and time to talk, minus our collective 13 children!
During our discussion, I confessed that I felt like I was playing a part in a play (one that I wrote?), where I'm being thrust onto center stage, given all the great lines, then sent home to write about it. I keep expecting the curtain to close, or that I'll get that proverbial hook and yanked off the stage. Who am I to be invited to shows and restaurants, meet and review the performers and performances?
I had this note by my desk before I moved that said, "Sometimes, you look out at the audience waiting for the applause and all you see are empty seats." (I just went upstairs to look for it and couldn't find it. Maybe it got lost in the move, or maybe it's no longer something to hang onto.)
Krista keeps telling me that people want me to come to their shows, clubs, or restaurants. She told me that the owner of a newly opened establishement said, "It's about time someone wrote reviews for us." And, "I hope she likes it." I also heard from some friends when I told them that my reviews were now on the Brainerd Dispatch website. They said, "That's great that someone is writing reviews for us for places like the Guthrie theater and local shows."
Dare I say it?  They need me.
Since my word for the year is Dare!, I do need to say it. I'm needed, and I will be invited, and I'll do my best to describe the food, the atmosphere, the performance, the location, anything that people would want to know before they go. Bring on the invites! I've been dared!
We did small plates to share.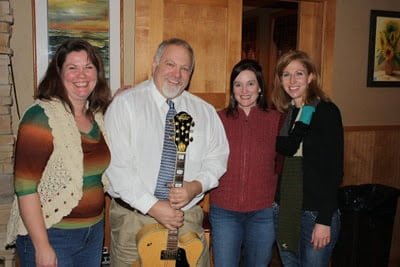 We flirted with the fine, young waiter (who indicated that he & Krista weren't supposed to be photographed together *wink),
and chatted it up with Jim Olsen, the guitarist for the evening.
(He'll be playing at the newly opened Moonshine Lounge on Jan. 14.)
And, dare to be the one invited, attending, and reviewing.
Journaling Prompt:  Have you ever felt like you might get "the hook?" What have you dared to do lately?