Quote of the Day:  Be daring, be different, be impractical, be anything that will assert integrity of purpose and imaginative vision against the play-it-safers, the creatures of the commonplace, the slaves of the ordinary. ~ Cecil Beaton
Introducing the cast of Coffee Shop Confessions, my first full-length play. We will be performing it at the Coco Moon in downtown Brainerd on March 2 & 3, at 6:30 p.m. These adorable people all said Yes to my script and Yes to my request to be in the show. We started rehearsals this week. And, YES, I was giddy. I have a terrible head cold, which kept me from bouncing off the ceiling, but I was still extremely excited. And, they're all wonderful.  Here's the List:
SAM

                     

David Allan Pundt
LOLLY

                  

Joey Halvorson
LAURA

                

Laura Oldham
AUBREY

              

Mary Aalgaard
ROXY

                    

Katie Maine
JEWELL

                

Abbey Olmsted
MICKI

                   

Kate Hauble
NICK

     

               

Guy Kelm
Yep, that's my name as one of the characters. I asked several people who would have been great in the role of Aubrey. They considered it, but the timing wasn't right for any of them. So, I guess it's meant to be that I take a role. Aubrey is the best choice for me. She's a hair-stylist, single, looking for Mr. Wonderful, online and otherwise. She's a bit outspoken and cares deeply for her friends. I played a beauty shop owner once before in a community theatre production of Steel Magnolias. I was Truvy. It's my biggest role so far, and I loved it. Now, I get to act again.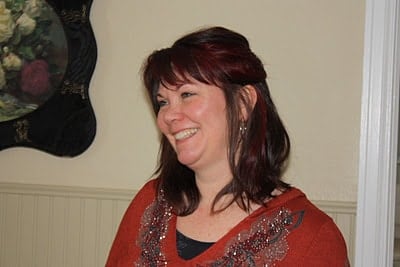 My hair-stylist, Aubrey, inspired the role, so I told her to make me look like a trendy stylist. Aren't the purple highlights fun?
So, we're off and running. We rehearsed the songs tonight, and I had a blast. Each step of the process is a thrill for me. My dream is becoming a reality. Thank you to the cast for bringing these characters to life.
Journaling Prompt:  What is your vision to bring your art form and dreams to life?