Quote of the Day:  Good Hope owes its culture and progress in religion and education to the Scandinavians, who flocked into the community. Fond of music and deeply loyal to the Lutheran doctrine and practice, they established parochial and public schools and trained the children in the elementary teachings of the Christian faith. In the "History of the Church" section of the Bethany Lutheran Church Centennial Celebration book.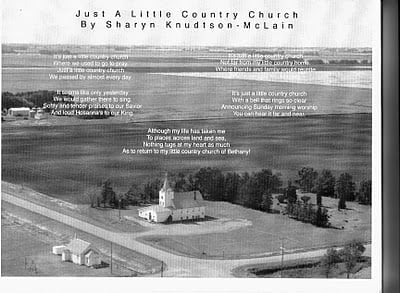 This is an aerial photo of the little country church and school house in Good Hope Township, Norman County, Minnesota, where I grew up.  My family's farm is about a mile south of the church.  Going to church on Sunday mornings was part of our weekly routine. I was Baptized here, attended Sunday School, and started playing piano for worship services when I was 13 years old. I remember sitting next to my Grandma Ida during services when I was young.  She wore a knitted shawl with long fringes. I would spend the quiet sermon time braiding the strands together. I didn't think she really noticed until one time, I didn't start braiding right away, and she nudged me and whispered that I could braid her shawl. 
Now, she's buried in the cemetary behind the church along with other relatives.
Our Faithful Moms group watched a short video by Rob Bell titled Sunday. It got us thinking, and talking, about what Sundays are like for us.  I came up with the journaling topic: What were Sundays like for you when you were young? What are they like now? And, how would you like them to look in the future?
Whether you're a church goer, or not, how do you spend your Sundays? Are they a day of rest?  If not, do you set aside time to rest and renew?
Sunday mornings have felt hectic to me most of my life. The beginning of the day has people trying to get ready at the same time. Some don't want to get up and go. Others have jobs to do. I am still a church pianist and will be playing nearly every Sunday now that the pastor and his wife are leaving.  So, really Sunday mornings are a day of work. But, Sunday afternoons have usually been very relaxing, including two of my favorite "activities" – reading and napping.  Also, we have some sort of delicious food. Mom usually made escalloped potatoes with ham or meatballs. We often make brunch.
Go. Create. Inspire! And, find a way to have at least a half day of rest.
Journaling Prompt:  Write about Sudays, resting, and family time.