Quote of the Day:  One thing I had to learn was that nothing remains the same…people grow and change…You look around and somebody is different from a year earlier. – Barbara Mandrell
Here I am at camp in our Little Red cabin with my four big boys:
Bobby, a senior this coming year.
Zach, 13, and Eric & Charlie, 11.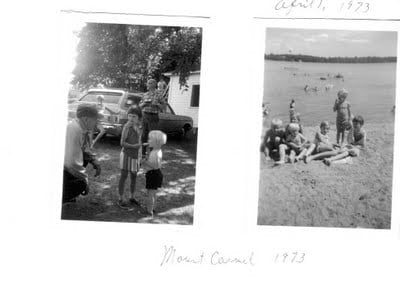 Here I am in 1973, sharing my popsicle with my little brother, and hanging on the beach with cousins.
Hey, relies, do you recognize yourselves in this photo?
I spent last week at a family bible camp with my four boys, my parents, an aunt, and cousins and their families, plus all the other campers, many of whom I've met in the past.  It was a big reunion and time for new memories. The Aalgaard's have been going to Mount Carmel for 40 years.  My mom went when she was a girl and worked there during her college years as a singing waitress.
Some of the highlights of our week together include the music from some amazing musicians.
The Mount Carmel Trio
"Maybe we should talk about the songs we're doing tonight."
John Ylvisaker, whose music I enjoy sharing at my home church.
Thanks, John, for your generous gifts of music.
I connected over journaling with my mom, other relatives, and made new friends. Our theme was music and memories. (More on that on Friday's post.)
Note, the stack of games behind me, the lovely weather outside, and my new Mount Carmel sweatshirt.  It was on the cooler side that week.  This week in MN, it's an unusual tropical climate.
We also played games, all sorts.  One afternoon, Bobby was wandering around the camp checking out what everybody was up to.  He saw Grandma (my mom) playing Scrabble with a couple friends, so he sat down and joined them. Sweet memories.
I also had the privelege of watching an artist in the process of his creation.  Here's the teaser for Wednesday's post….
What do you think will appear on this canvas?
Journaling Prompt: 

When and where does your family like to go to just be together?  Do you have a family tradition of a place to stay or special time to be together?