Letter of the Day:  R
R is for Ruby Boots and a guest post by my friend Dawn Timbs, a writer and sing/songwriter.  I saw her first when she sang at a concert at a local church.  I thought she was amazing.  She visited that same church on the last Sunday that I played piano there.  I'd had a terrible experience that could have crushed my music making spirit, but as I walked out of the church, I found myself walking with Dawn and her husband (the guy I call the man with the fabulous fingers – he's amazing at the keyboard), and I told her that I'd loved her singing when she was there.  She thanked me for playing that day and said, "You play with such feeling."  Those words lifted me up and helped me get back on the piano bench and play to my heart's delight.  Thank you, Dawn.
Here's her story and a lovely photo of Dawn and her sisters in Ruby Boots.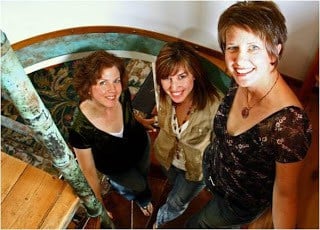 R is for Ruby Boots, a folk/country/gospel band with Minnesota roots.



Consisting of three sisters – Dawn, Andrea and Heather – Ruby Boots performs select concerts each year, singing songs about life and love, heartache and inspiration.


They've been singing together since they were kids and part of the family gospel band The Schimpps. Vocally, the sisters have a blend that can only be found in family ensembles.


Their music has been featured on public radio stations across the country; and they were guest performers at a live broadcast of Minnesota Public Radio's Morning Show.


Dawn is the songwriter of the group. By day, she is a reporter with the Staples World, an enjoyable job which has put her in contact with a wide variety of people and events.


Currently, she is working on a new project…songs inspired by stories found in the local newspaper. She hopes to have the band record them sometime this year.


The name Ruby Boots comes from a line in Dawn's song, The Man from Alabama. It tells the story of when she first met her husband, a musician from the south who played a "smokin' hot" piano and wore red boots.


Mr. Ruby Boots (aka Gary Timbs) plays a major role in the band's recordings as well as live performances. A Grammy and Dove-nominated performer (with various gospel and country groups), Gary has wowed audiences across the country with his rich baritone voice and "Southern-fried" keyboard skills.


This summer, Ruby Boots will take the stage at Nordic Fest in Decorah, Iowa, where Andrea lives with her husband and three kids.


For more information about the group, check out their website at http://www.rubyboots.com/; or http://www.cdbaby.com/.
Dawn and I had lunch together this week.  I'm hoping we'll have a chance, someday, to collaborate on a project.  Thanks for writing a guest post today, Dawn.  I can't wait to hear your new creations!
Go. Create. Inspire!
Journaling Prompt:  Do you know someone that you'd like to work with on a project?  What would your creative team look like?