Quote of the Day:  I have two from quotegarden.com:  I held a moment in my hand, brilliant as a star, fragile as a flower, a tiny sliver of one hour. I dripped it carelessly, Ah! I didn't know, I held opportunity. ~Hazel Lee
Opportunity is a parade. Even as one chance passes, the next is a fife and drum echoing in the distance. ~Robert Brault, www.robertbrault.com
I love the sound of hope in the second one.  Here's a funny story. I went to the skating show with my friend and her daughter, also my piano student.  My friend worked the concession stand, so she told me to sit at her spot where she had a comfy stadium chair and blanket waiting for me.  How sweet.  I said, "Excuse me," to the lovely young woman at the end of the aisle, and scooted in.  Immediately, I noticed her impressive camera equipment.  She took a few practice shots before the event started.  I wanted to lean over and ask about her lens and her settings, but I didn't.  I was shy.  I mean, I've taken one photography class through community ed.  What do I really know about cameras and their settings?  So, I sat quietly, taking in the show with my eyes, and after intermission, sipping on some hot chocolate. 
Turns out the lovely young woman is a local professional photographer and I follow her blog!  I didn't quite recognize her because we've never met in person. I've seen only a headshot of her, and know her best by her work.  When I got home, I saw that she had posted on FB that she was going to the show.  I wrote:  OMG! I was sitting right next to you!
She later admitted that she thought she recognized me, too, because she follows my blog and noticed my "cute coat" (thanks), the one from the Her Voice article.  She'd also been too shy to say anything.
We're both feeling a little socially inept.  We agreed to meet for coffee, soon, and actually talk to each other.  Let me introduce the fabulous Laura Radniecki and her wonderful work.
The adorable Mickey Mouse number I wrote about in Monday's post.
"The Flintstones" number with a neighbor/friend's daughter in the foreground – future piano student!  Her older sister is my student and also a skater.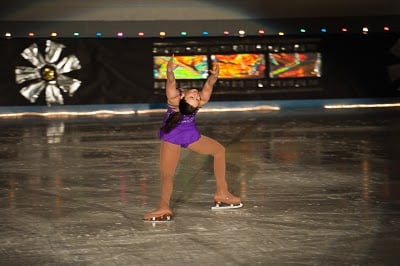 The guest skater, professional and Olympic hopeful, Kate Charbonneau, from Canada.  Not only is she a fabulous skater (truly, I felt like I was at the Olympics), she was a gracious guest and loving inspiration to the younger girls.  Someone to truly look up to.
See more photos of the skating show and to learn more about this wonderful photographer at her blog.  She describes her art as: Authentic. Timeless. Whimsical.  I think she is especially skilled at capturing the personality of children – tongues hanging out, winks, playing with a favorite toy, or coming alive in nature.
Thanks, Laura, for sharing your photos on my blog.  Thanks for scooting your legs over so I could sit by you.  Sorry I didn't say, "Hi." And, I look forward to our coffee date.
Go. Create. Inspire!
Journaling Prompt:  Have you ever let an opportunity slip by because of fear, shyness, or daring to make the first move?  Write about it, learn from it, and seize the next opportunity like the beat of a new song!