Quote of the Day: 
Mmmm, doesn't Frankie sing it best?  I've been thinking of this song ever since temps here in Minnesota fell well below zero.  Since I don't have my own crooner warming me up from the ears down, I put the flannel sheets on my bed and made hot tea.  I may not have romantic love right now, but I do have my boys who are full of sweetness now and then, even hugs from those growing sons.  And, I've felt lots of friendship and blog love.  So, I offer you a sip of warmth, two blog awards, and a good read for a cold winter's night.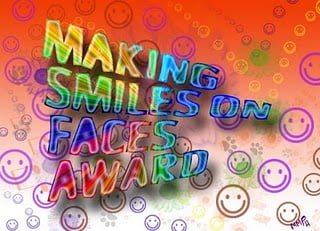 I received this cheerful award from Kittie Howard at The Block.  I have raved about her before, and I'll do it again.  I enjoy reading her stories so much.  They're full of wisdom and humor and good Southern storytelling.  She's in essence writing her memoir – and what an interesting life she's led.  Thank you, Kittie, for honoring me with this award, and for sharing your stories.  It's the blog I might save to read at a time when I can savor the words.  Kittie, it's like we're sittin' on the porch together in the Bayou, sippin' iced tea and enjoying your Cajun cuisine.
The following blogs bring cheer to my days:
Jade at Blush of Dawn.  We just started following each other's blogs this year, and she really does bring that ray of sunshine into perspective.
My friend JeMA and her family are on an adventure in an RV, traveling around the country, two parents, four kids, a cat, a dog, a fish, art and technology.  Read all about it at Hair in the Air!
Keats the Sunshine Girl – the title says it all.  She gives us warm and colorful images from Malaysia.  A treat for the eyes when you're living in the cold tundra of the North like I am right now.
I also like reading glimpses of life in Guatemala from a young woman from our area.  Brianna.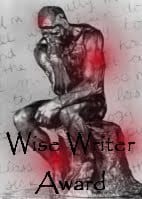 Laurel G. at Laurel's Leaves gave me this prestigious award.  The award asks writers to share where they get good writerly advice.  I like The Artist's Way by Julia Cameron, On Writing by  Stephen King, and anything by Maya Angelou.  The blogs I follow that make me think more about writing are:
Missed Periods – a humorous look at grammar and other things.
Mystery Writing is Murder, which many of you follow.  Elizabeth gives us both writing advice and a glimpse into a writer's life. And,
Tess Hilmo, whose blog is fun to follow right now because her debut novel is coming out this year.  I like reading about her publishing journey.
These are just a few of the blogs I follow and enjoy.  The internet can bring good or evil into your home.  These blogs bring sunshine, wisdom, real life, caring, and joy to mine.
I mentioned passing on a good read.  I read Still Alice by Lisa Genova this week and wept my way through it.  Before you dismiss it as a sad book, I say, why not read it?  Ms. Genova is able to create a character that seems so real that we weep for her loss and for her family.  She gives us an idea of what it could be like to have Alzheimer's.  I have a strong need to learn about Alzheimer's, maybe there's a story in there, maybe I'm feeling called to use my gifts of music and writing for the cause, or maybe I'm being prepared for something else.  Either way, I am profoundly affected by this disease and how devastating it is to families.  I hope to write an article about it in our local women's magazine.
Go. Create. Inspire!
Journaling Prompt:  Name some of your favorite blogs or what you like to read on or off line.