Quote of the Day:  I need noise and interruptions and irritation:  irritation and discomfort are a great starter.  The loneliness of doing it any other way would kill me. Anita Brookner
I also like:  I type in one place, but I write all over the house. Toni Morrison
Some writers need complete silence.  Some want blank walls and a a small room where they can shut the door.  Not me, I need people.  I find that I am more productive when the kids are home or when I go to a coffee shop.  I need the energy of other people to stimulate the flow of words for some of my projects.  Plus, I get most of my dialogue from listening to other people.  I'll confess right now that Coffee Shop Confessions is filled with overheard conversations as well as ones that I've been involved in.  I take real life and put it into my stories and articles.
This weekend my boys were with their dad.  The temps were well below 0 degrees F.  I was alone, feeling isolated, and a little schlumpy.  That means I tend to nap, putter around, and watch movies. 
This is my parents' mailbox, not mine.  It's about 150 miles away.  I didn't make it past the end of my driveway this weekend, but I wanted to use their mailbox because I like this picture.
This weekend, I decided not to let the solitude get the best of me.  I embraced it, (remember my word for the year) and found myself doing things that I like to do.  I read a book The Reader, then I watched the movie.  It was interesting comparing the written word to the movie version.  They're very close.  I worked on my play, merging some files so it was all in one place.  I feel very good about Acts 1 and 2.  I still need to work on Act 3.  I made a date with myself to work on it at the coffee shop on Tues.  I cleaned my floor, mostly because I couldn't stand the filth – salt and sand dragged in on dirty boots – yuck.  And, I made a delicious chicken stir-fry with lots of ginger and garlic. mm-mm.  My kids are afraid of stir-fry, so I make it when they're not here.
Sometimes when I'm alone on a weekend, I wonder, what are other people doing?  Where do adults gather, besides the bars?  Well, this weekend, we had the Brainerd Jaycees Ice Fishing Extravaganza.  This is a fund-raiser for the organization and much of the proceeds go to Camp Confidence, a local camp for kids with disabilities.  We even had our new Governor Mark Dayton visiting the lakes area. 
(The following photos were taken by my friend Joey Halvorson.  She does most of the photos for my Her Voice articles.  She's much hardier and braver than I am.)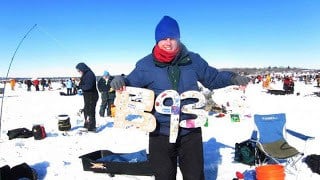 My friend Hans and co-author of my next Her Voice article, "Real Men Read Her Voice"
These folks are really walking on a frozen lake – thousands of them are out there trying to catch fish through a small hole in the ice.
I left the fishing and schmoozing to the hardier folks and stayed inside.  In the end, I felt refreshed by my choice to spend time with myself.  But, I was ready for conversation and life beyond my own couch this morning.
Journaling Prompt:  How do you handle solitude?   Do you embrace it or resist it?  Where do you do your art best?  Have you ever walked or fished on a frozen lake?  How's the weather where you are today?