Quote of the Day:  Come to the fount of creation, where the water of life is flowing free. lyrics from the song by John Ylvisaker
Sunset after a storm at Mount Carmel
At a Weekend for Women, Sept. 17-19, I will be leading journal writing at Mount Carmel Camp near Alexandria, MN.  You can visit their website by clicking on the name, or contact me, if you wish, and I'll connect you.  mary(dot)aalgaard(at)yahoo com.
What happens at a women's retreat?  Besides great food, fun, and fellowship, you have time to tap into your creativity, or just Be.  I have some things to share about journaling, a few prompts, and we'll have time to write and create.  My friend, JeMA, will teach art, using nature and texture, and re-awakening our creative spirits.
You also have the option for massage, spiritual direction, walks, time to enjoy the lake, meet new people, or even take a nap.
Last year, I attended two of these retreats, lead some journaling, and enjoyed the beautiful women who were there.  Mothers & daughters, sisters, cousins, aunts, friends, and singles arrived to find rest and nurturing by the still waters.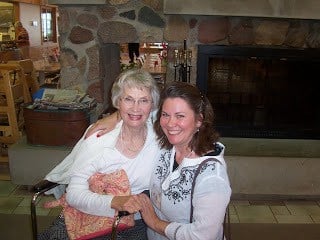 Last year, I sat next to this lovely woman and her sister for dinner on Fri. night.  Turns out, she raised four children, taught piano lessons, and was a church musician.  What a great connection!  I enjoyed helping with the journaling and teaching the women how to make their own journals.  I had a cabin to myself along the water's edge.  The weather was lovely for September.  I fell asleep to the lapping of the water along the shore and felt peace.
Come away with me, if you can, or find a retreat for yourself wherever you live.  Women need to nurture their creativity and tend to their own needs.  Give yourself a little time-off.
Journaling Prompt:

Write about a retreat experience that you've taken, or one that you dream of taking.