Quote of the Day:  A conversation with my boys.
Me:  What do you remember best about the Memorial Day ceremony?
Eric (left):  The Star Spangled Banner
Charlie (right):  The National Anthem
And, it was captured on Steve Kohl's camera and printed on the front page of our local newspaper, The Brainerd Dispatch.  (Zach is standing next to me, behind the twins and their scout mate Aaron.)
Some of the scouts marched in the parade.  My boys handed out programs at the Memorial Day service at the cemetery.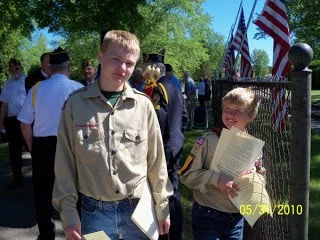 They did their jobs with patriotic spirit and observed the importance of this day.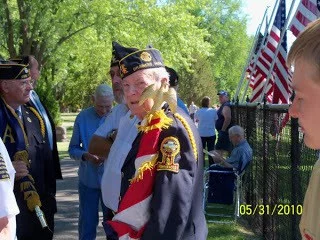 Thank you to the men and women who served and sacrificed.  Thank you to their loved ones who waited and worried.  Thank you for living and giving beyond yourselves.
When I was in the 7th grade, I read In Flanders Field for the Memorial Day service in my home town.  The author of that poem, Lieutenant Colonel John McCrae, MD, Canadian Army, wrote this poem in the spring of 1915 after spending 17 days treating injured men.  He never intended to publish it.  He even threw it away, but it was retrieved by his comrades and sent to a newspaper. The first paper rejected it, but it was published in Punch, and is still read today.
In Flanders Fields the poppies blow
Between the crosses row on row,
That mark our place; and in the sky
The larks, still bravely singing, fly
Scarce heard amid the guns below.
We are the Dead. Short days ago
We lived, felt dawn, saw sunset glow,
Loved and were loved, and now we lie
In Flanders fields.
Take up our quarrel with the foe:
To you from failing hands we throw
The torch; be yours to hold it high.
If ye break faith with us who die
We shall not sleep, though poppies grow
In Flanders fields.
Journaling Prompt:  Write about someone you are remembering, or about people you know and love who have served their country.