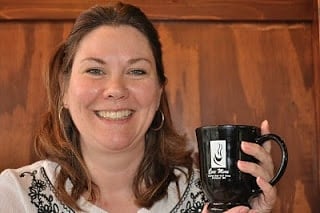 Quote of the Day:  The creation of something new is not accomplished by the intellect but by the play instinct acting from inner necessity.  The creative mind plays with the objects it loves. – C. G. Jung
I found that quote in the book The Artist's Way by Julia Cameron.  I recommend this book to anyone who has ever been blocked, frustrated, or suffered self-doubt in their creative lives.  I first looked at this book in 2004 with my writer-mama-pal Roxane.  We worked on it and checked in with each other regarding our progress.  I am revisiting this book now with her and artist friend JeMA.  This goes along nicely with the Business class for Artists that I'm taking.
Julia Cameron encourages us to share what we've learned in this book.  Two basic tools for unblocking are journaling and the Artist Date.  She has some specific ideas about the journaling.  I believe any journaling is helpful.  I love encouraging people to write out their stories, feelings, expectations, fears, etc.  That is the purpose of my blog.
For the Artist Date this week, I bought myself a new camera.  The above photo is the first image on this camera.  JeMA took it while we were having our weekly check-in at the coffee shop.  Here's another one of me having fun…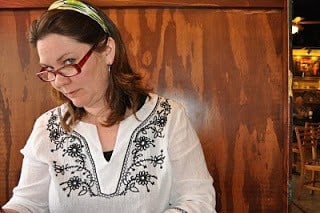 So, I took a picture of JeMA laughing at me acting silly in a coffee shop.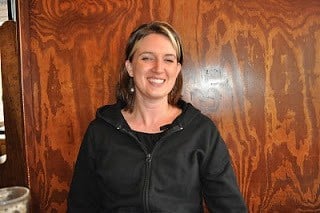 Then, I went home and made good use of the rain.  Look, free water to wash the deck!  And, good little worker boys who don't mind working if they can get wet!  Plus, a neighbor boy who'd rather help us clean than go home.  He doesn't have any brothers, just one older sister who's hardly ever home.  I served them hotdog mummies and fruit for lunch.  You gotta pay the help!
Would you like to join me on the deck for iced tea, creative conversation, or a good read?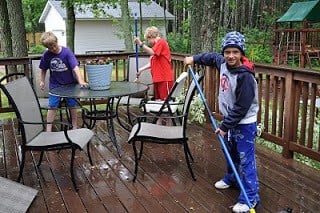 Some Artist dates might be buying yourself tools for your creative work.  Some might be taking a walk, looking at art, being inspired by nature or music.  It's taking time to nurture your creative child.
Journaling Prompt: 

What would you like to do on an Artist date?