Quote of the Day:  Fear No Art – a sign above a door at the Hot Shops Art Center in Omaha, NE. From their website:  A place where artists can work and interact establishes an atmosphere for creative art discourse. This will not only be an energizing influence on development of art, it will ultimately create relationships with other artists fostering a sense of community.

Have you ever wondered why people take the time to make things beautiful?  On our trip to Omaha, my friend, who is a visual artist, looked up places of interest in the arts.  We visited the Hot Shops and the Joslyn Art Museum.  All forms of art existed in every culture from the beginning of time.  What motivated the Native Americans to spend hours sewing elaborate bead patterns on their dresses?  What motivated Monet to break out of the mode of realism and develop something new?  How have the stories and legends of our ancestors been passed down through generations, and why are we still interested in them?  How is it that music written over a hundred years ago stirs up in us today the deep emotions that stirred the creator?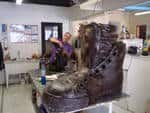 The Hot Shops and the artists who gather there have what I dream of having – a community that encourages one another and builds each other up.  When we found the shops, we walked up to a man welding a miniature baby grand piano.  He showed us the glasswork keyboard that would go on it.  The glassmaker had made that for him.  He said they work together to make art.  They interact and bounce ideas off one another.  They encourage each other to "go for it," when they think they're having a wild and crazy idea in their art.  When you're surrounded by all that art and beauty, your creative spirit soars.
Journaling Prompt:  Who is on your creative team?  What art would you do if you had no fear and unlimited resources?
The blogging world is my creative team. Thank you Joanne at Whole Latte Life for pointing that out to me.  We writers are great creative support to one another.  Thank you all!  Lisa and Laura featured the book It's Raining Cupcakes (the very thought!) on their blog this week, and have a copy to give away.  Their question was, What's your favorite flavor of cupcake?  Since I made them drool with my favorite, I included the recipe below for all to try and enjoy!
Black Bottom Cupcake
Part 1
6 oz. cream cheese
2 beaten eggs
1/4 tsp. salt
2/3 c. sugar
12 oz. package chocolate chips
Beat all the ingredients well, then stir in the chocolate chips.  Set aside.
Part 2
3 c. flour
1/2 c. cocoa
2 tsp. baking soda
2 c. sugar
1 tsp. salt
Sift together.
Part 3
2 c. water
2/3 c. cooking oil
2 tsp. vanilla
Beat well and add to Part 2. Fill cupcake tin (add papers if you like) about 1/2 full. Drop 1 tsp. of Part 1 on top of each one.  Bake at 350 degrees for 25 minutes.
Oh, ya, they're worth every calorie!
Have a safe and reflective Memorial weekend.