Quote of the Day:  I got sunshine on a cloudy day.  When it's cold outside, I've got the month of May.  from My Girl by The Temptations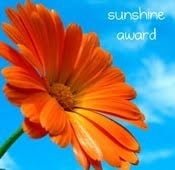 I received the Sunshine award from Laurel's Leaves on Mon. April 12.  It feels good to be someone's sunshine.  My boys let me know that I'm their sunshine when they smile at my presence – in the classroom, fieldtrips, when they wake up from surgery (3 out of the 4), when I welcome them home after school or when they've been gone.  They're my sunshine, too.
The Temptations sing about "My Girl" how she's the sunshine for that guy. Sometimes I change the words and say: Who can make me feel that way? My guys!  I heard this song when I was a kid.  It came out before I was born, thank you very much, and it's been played often, shown up in some great movies.  It's the song that little girls listen to and think, That's what I want.  I want to be someone's sunshine.
Journaling Prompt:  Who has made you feel sunshine on a cloudy day?  What did that person do to make you feel loved?
The first time I sang a solo at church, My Guys clapped, and when I sat down, one of them gave me a big kiss!