Quote of the Day:  Hebrews 12:1 (New International Reader's Version)
1 A huge cloud of witnesses is all around us. So let us throw off everything that stands in our way. Let us throw off any sin that holds on to us so tightly. Let us keep on running the race marked out for us.

Received from Charmaine,
Wagging Tales
, blogger, Down-under.  So glad to know you!  Thanks for honoring me!!
The Honest Scrap Award asks for 10 Things about me:  This will be 10 more things about me.
1.  I grew up on a farm.
2.  My favorite food is chocolate covered strawberries.
3.  I make yummy stir-fry and even try new ingredients.
4.  My kids hate stir-fry.
5.  I think spring is both exciting and dangerous.
6.  Fall is my favorite season.
7.  I get excited about planning music for worship.
8.  I think I might have something that still needs to be picked up from the dry-cleaning.
9.  I'd rather be surrounded by too many people, than none at all.
10. The ingredients to a Good Morning include coffee, journals, music and/or poetry, grapefruit, and a cheerful "Good Morning" greeting from a loved one.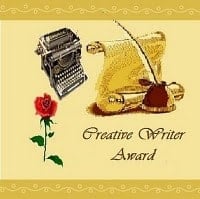 This one is from
Laurel's Leaves
.  She brings out the creative writer in ME.
I felt myself pulling back last week.  I was trying to get out of groups and activities.  I was retreating.  It's hard to tell, sometimes, are you retreating because you're tired and need a rest, or are you retreating because you don't feel up to the task?  Are you saying to yourself:  I'm not good enough?
I have a few people in my camp who won't let me say, "But, I'm not good enough." or "Who am I to….whatever – write, get published, play music, teach?" (fill in your own art/insecurities here).
Instead, these people say, "Of course you can, Silly.  Now, get out there and DO it.  The world is waiting.  Quit talking that crazy talk."
Thank you.
Journaling Prompt: 

Name the people who are in your camp of confidence.  Write them a thank-you.  Write about a time when you felt lifted up.