Quote of the Day: If I could have anything I wanted, I would choose story without end. – Annie Barrows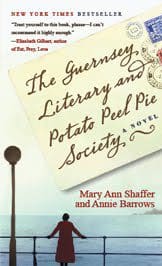 I loved every word of Mary Ann Shaffer and Annie Barrows epistolary novel, The Guernsey Literary and Potato Peel Pie Society. I started it a few days before Christmas, but read most of it on the snowy Saturday after the gifts were opened and the children were away. I took one short break to clear my driveway and get circulation back in my bottom, then promptly placed it back on the arm chair so I could rejoin all my new friends on Guernsey Island.
Isn't that how it is when you're immersed in a great book? You feel like the characters are your friends and you can't imagine life without them. When I was around 12-years-old I remember loving a book so much that as I neared the end, I feared having to let them go once the story ended, so I set the book down for a couple weeks before I'd allow myself to finish the book. I missed them so much. (Although today I can't remember just which book that was…maybe it happened more than once, but it likely had girls and horses in it!)
Annie Barrows says that many readers share this sentiment. She goes on to write: This profusion of questions, exclamations, and tales is the new version of the Society. Its members are spread all over the world, but they are joined by their love of books, of talking about books, and of their fellow readers. We are transformed – magically – into the literary society each time we pass a book along, each time we ask a question about it, each time we say, 'If you liked that, I bet you'd like this.' Whenever we are willing to be delighted and share our delight, as Mary Ann did, we are part of the ongoing story of The Guernsey Literary and Potato Peel Pie Society.
We are joined in the society of readers and lovers of words and sharing words and stories.
I read the final few pages of this novel in the waiting room of the dentist office. Before the hygienist put her fingers and tools in my mouth, I had to tell her about this book. She wrote it down, another hygienist wrote it down, and she talked about books during my entire cleaning, which made it much more tolerable.
It's nice to know the story lives on. We keep passing it along. We keep sharing our stories, and we stay connected.
Journaling prompt: What are you reading right now, and what book would you recommend to a friend?