Quote of the Day: What can I give him, poor as I am? If I were a shepherd, I would bring a lamb; if I were a wiseman, I would do my part; yet what I can I give him – give my heart. – from "In a Bleak Midwinter" Christina Georgiana Rossetti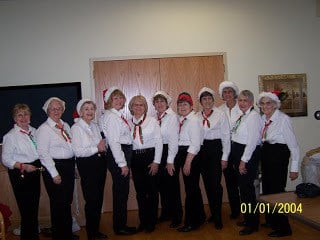 (the date on the photo is not accurate)
Gift #1: I had the pleasure of accompanying these singing grandmas at a gig at a local nursing home. They are The Country Swingers, a group of women who love dancing and sharing their love of music with residents at a local nursing home. On this day, they asked me to accompany them for a holiday sing-a-long. They were happy and gracious and fun to watch. The residents were there, with bells on, smiling and shaking their jingle bells and wiggling toes on feet that hadn't touched the ground in ages. I saw a spark in their eyes that lit up the whole town as they connected to the dancers, joined in the singing, and remembered songs from the days when they were dancing and playing. I felt such joy in a simple yes to share my gift of playing piano for them.
Gift #2: I put up my tree in my music room last week. By Thursday, it was needing some decorations, so I pulled out my boxes. One student had spent the afternoon with me, so she started the decorating. Then, my younger boys came home and joined in. Next, a piano student came in. We were quite the "Hallmark" moment, with the boy playing Chrismas songs, and the other three decorating and singing along.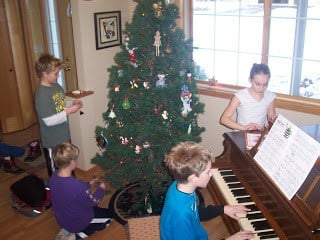 Gift #3: I sang along with the Boy Scouts at another local nursing home this evening. It was in the memory care units. We brought back memories to these residents. They came out of their rooms and followed us down the hall. One woman sat near us and moved her fingers as though she were accompanying us on her piano. Another woman begged for an encore. Again, smiles were bright and hearts were light.
Gift #4: I closed out the day with a moment for myself to listen to and enjoy my favorite choir, From Age to Age. They are a choir of voices from around the state of Minnesota. The conductor is a young man from our area who leads his choir with joy and energy and grace. I could do nothing but smile and enjoy this gift of the season. It was "goose-bumpy" good.
Journaling/comment prompt: What surprise gifts have you experienced this season?