International Dinner
Right before we left for a week-long motorcycle ride which included The Sturgis Motorcycle Rally, Jodi Schwen, editor of The Lake Country Journal, asked if we would write an article about hosting an International Dinner. We sat down and planned a menu that included offerings from several continents. At least one of the courses had us trying something new, and a few other courses reflected our own family heritage. We didn't have time to host the dinner before the article deadline, so on Saturday night, September 13, 2014, we gathered a few friends to experience the Dining Around the World event.
I don't want to give away all the details of the article. Our hope is that you pick up a copy of Lake Country Journal to read all about it. What we're offering now is a bit of an appe-teaser! Of course, The Biker Chef added a few additional ingredients to the evening. When the article comes out (in the November/December issue, I believe), I'll post more pictures and maybe a few recipes (if the Chef allows it)!
Every event should begin with a toast: to good friends and fine food!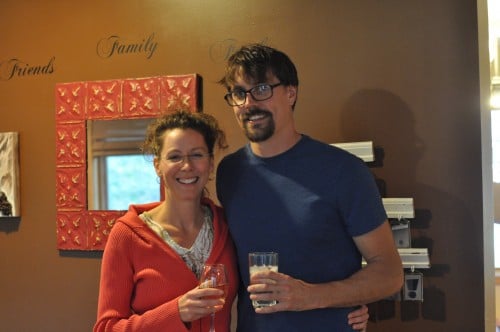 Joy, the dessert specialist, and Nate taking time to relax.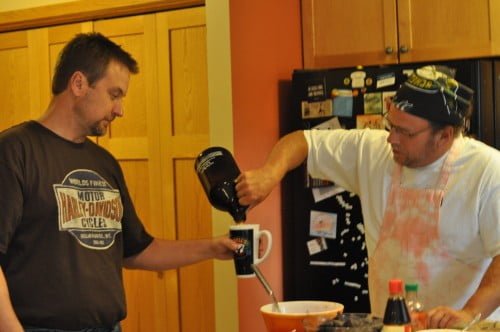 Pat and Holly brought a growler of the local beer from Jackpine Brewery.
Mm, mm, the anticipation is growing.
We started with some traditional appetizers, chips and dip. The Chef whipped up a chip dip, a veggie tray with more dip, a black bean pico and green chili dip. This was a great way to use up the bumper tomato crop that my family shared with us last weekend when they came up for my birthday party. In fact, I told our guests on Saturday night, that I felt like our Dining around the World party was an extension of my birthday celebration. After all, it's still September, and we get to celebrate all month, right?!
For our bread choices, I made my favorite sour dough bread with oats, wheat and white flour, and Maple syrup. Baking bread is something that links me to my mother who has always been known for her wonderful bread, buns, and cinnamon bread. The Chef surprised us with blueberry cornbread that he makes in the cast iron skillet. It is a real treat. He says it's really easy, so I'm thinkin' "Then, let's have it more often!" I had thought of including cardamon buns, but we had other bread choices, and they are also Joy's specialty, and she brought the dessert, so we'll save those for the next event, maybe Thanksgiving.
The best part of all is that we had a group of friends sitting at the table with us all evening, sampling the menu from around the world and sharing their stories. The sensory effects of food, taste and smell, trigger so many memories. People were remembering special meals and moments with grandparents and growing up. The Chef said something like, "Sitting down together and sharing a meal brings people together." We are so grateful for the people who sat at our table on Saturday night. Mike and Kathy had been over last Sunday to cut up the fallen trees and haul away the large logs. I appreciate that so much. 
We'll be sharing more from this meal in future posts. We hope that your table is overflowing with delicious food, great conversation, and surrounded by friends and family whom you love.
Cheers!